Italian Baby Product Brand Chicco's Campaign Strategy
How to enter foreign market? An Italian maker of baby products decides to start from educating people to pronounce their name right. The brand is Chicco, pronounced "KEE-ko." Chicco's products are priced as a premium brand for mass market, although not as high as its prestigious competitor Peg Perego.  This well know Italian brand want their brand name to be said properly and frequently on the mouth of fellow Americans.
The company created a campaign that invites parents to submit videos of their baby saying " Chicco", and the video has a chance to appear on a billboard in Times Square. The campaign created around the theme "If you say it right, it makes you smile." The budget is estimated at just under $5 million. The media strategy of the campaign contains print ads, online website promotion, online ads, and social media marketing including Facebook, Twitter and outreach of mom bloggers.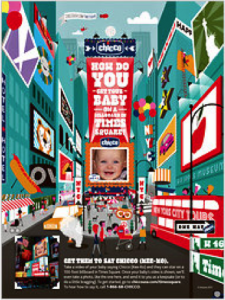 The aim of the campaign is to arouse customers' awareness about the brand, which , according to the chief marketer , is "a 360-degree master brand that offers everything you need for your baby age 0 to 36 months, except diapers and food." Further more, to build the brand image as  "a brand intent on baby happiness," the product also emphasize its country of origin -Italy, which is considered as the presentation of product high quality.
A successful campaign that is emotional appealing? The chiccousa.com video gallery presented video of children shouting "Chicco," chanting it, singing it and even dancing while singing it. In many clips, parents, off-camera, can be heard educating their children to say "Chicco" over and over again, and the children respond the same way emotionally. As New York Times article joked,  "the baby's first word could not be' mom',  but 'Chicco'  ".
An intelligent crowed-sourcing with user generated content? "You couldn't do that in an ad," said Thom Gruhler, who is in charge of the campaign. "They want to share it and pass it along," he added. And of course, social media make it easier to do that. "Who wouldn't want to put their kid up in Times Square and then post it to every social network Web site?" the chief marketer asked rhetorically.
Does the correct pronunciation of name really matter? What role does social media play in this campaign?
Reference
Elliott, S. (201) "A Famous Baby's First Word? Hint: It's Not Mama", New York Times, http://www.nytimes.com/2011/02/22/business/media/22adcol.html?ref=media [accessed on 02/22/2011]