I have a friend who regularly plays a Counter-Strike: Global Offensive (a.k.a CS: GO), a classic shooter-video game with a giant international gamer society. During our recent outing, she brought up the topic of how unethical CS: GO was for instigating its players to gamble for its purpose of increasing its publicity and viewership and motivating its fans to stay in its society. I am neither a cyber or video game player nor an expert in cyber game cultures; however it is surprising how some game businesses execute exemplary, effective marketing strategies, while they have some ethical, legal "gray areas" that concern the public.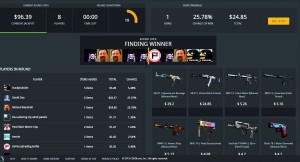 (Source: http://www.polygon.com/features/2016/7/18/12203534/counter-strike-cs-go-skin-gambling)
Again, I never lived in the gaming world. Although I did some research on this topic, I am still unsure whether I fully understood some of CS: GO jargons such as "skin betting," and "gun skins." For those who are not familiar with these jargons like I am, here are my notes from my research on this global-wide scandal in the gaming world.
– CS: GO has multiple relevant websites and social media platforms that carry out a multitude of the gaming experience for its players.
-The websites allow players to buy and sell gun skins, virtual game items used in the game, exchanging real cash.
-Some websites enable players to gamble with the virtual game items which players can get either from playing the game or by purchasing with actual money.
-The gambling practice has grown large which led to the largest wagers to be around $4000.
-The owner of the game deceitfully posted YouTube contents as if a gamer sharing tips of how to make money out of gambling practice. The purposes of his postings were to publicize CS: GO and to motivate the gamers to stay engaged with the community (Leslie, 2016).
Due to their unethical business practices, two lawsuits have been filed and are risking its future. Although I detest its beguiling practice, I want to give credits for its attempt to expand the gaming experience for its users. The game company The expansiveness of this gaming society motivated people to pay real cash to buy virtual items off the game platform and made their purchase experience rewarding (Gumussoy 2016).
CS: GO strategies emphasize real brand experience and consumers' engagement with the brand.  Gamers feel real to live in and felt strong connection which made them striving to earn more rare game items to maximize their satisfaction in the gamer society. The more real the community is, the more natural gamers will form emotional connections that led them to exchange real cash to buy and sell virtual game items. To create the realness, the company has taken advantages of the online gamer community as gamers from all over the country discuss the game-related topics. CS: GO's strategy was effective but ended up losing consumer's trust as it deceived loyal fans.  
Business leaders stress the importance of creating a unique brand experience and emotional bonds between brands and consumers. "Human connections are emotional. The power of emotion is what bonds us together and build trust" (Coughter 2012). Their strategies proved how important it is to make the brand experience as real as possible for the consumer.  Consumers want to purchase products that matter to them and has intangible, emotional values. However, it must be supported by consumers positive emotion and trust. Unethical business practices will cause irreversible damage to the brand image like CS:GO is currently going through.  
Reference
Altin Gumussoy, C. (2016). Acceptance of the virtual item auctioning system in online games: The role of intrinsic motivation, extrinsic motivation, and trust. Human Factors and Ergonomics in Manufacturing & Service Industries, 26(5), 627-637. doi:10.1002/hfm.20682
Coughter, P. (2012). The art of the pitch: Persuasion and presentation skills that win business. New York: Palgrave Macmillan.
Leslie, C. (2016, July 26). The CS:GO gambling scandal: Everything you need to know. Retrieved October 14, 2016, from http://www.dailydot.com/esports/csgo-gambling-scandal-explained/