It's that time of year again. Winter is turning into spring. The hype of the Super Bowl has passed. Professional basketball and hockey are still in the midst of their respective seasons, and baseball has not quite started its season. However, this is when college basketball reigns and dominates the sports world. We call it March Madness. Anything can happen ranging from Cinderella stories, major upsets, and buzzer beaters. It provides all the emotion that makes for a great story, even for non-basketball fans.
The economic impacts of of collegiate athletics today is astounding. Revenue for the National Collegiate Athletic Association (NCAA) in 2011-2012 was over $871 million, 81% of which came from television and marketing rights fees according to ncaa.org.  The majority of these earnings come from football and men's basketball. A lot of this money is awarded to universities, athletic conferences, and coaching staffs. However, the players are excluded from this list even though they play (no pun intended) a vital role on the economic success of collegiate athletics.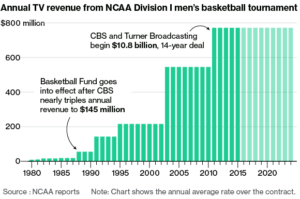 Millions of people tune in each year to watch the March Madness tournament. According to ncaa.org, 27 million viewers caught the national championship game in 2015, which was a 33% increase from the 2014 championship game. $10.8 billion. This figure represents the 14 year deal that the NCAA agreed to terms with CBS and Turner Broadcasting to televise the March Madness tournament. This leaves the NCAA and companies such as Nike who run advertisements during the tournament with ample opportunities to bring in revenue and increase brand awareness.
While many parties involved with collegiate athletics earn millions each year, the players are left out of this equation. Is this fair? Should college athletes be compensated for their contributions to this industry? For years people have argued that student athletes are first and foremost students who are amateur athletes that receive scholarships to attend school. This was before there were billion dollar media deals, marketing campaigns, sponsorships, and lucrative tournaments. In recent years, there has been a debate that supports the idea that athletes such as those who play in widely televised tournaments like March Madness should be compensated for their contributions. How will paying college athletes impact college sports and entertainment?  
References:
Wilbon, M. (2011). College Athletes Deserve to be Paid. Retrieved from http://www.espn.com/college-sports/story/_/id/6778847/college-athletes-deserve-paid
http://www.ncaa.org/about/resources/finances/revenue
http://www.ncaa.org/about/resources/media-center/news/indianapolis-hosts-seventh-ncaa-final-four-sets-records-across-multiple-events