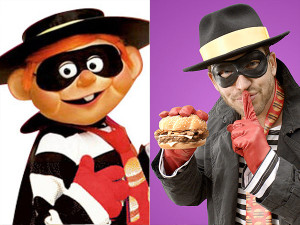 McDonalds is in the midst of refreshing its brand after years of lagging sales and scrutiny over its nutrition and marketing practices to children. Just in time, the company has resurrected the once impish cartoon, the Hamburglar. Not only is McDonald's notorious masked hamburger thief all grown up as an in-the-flesh marauder, he's a husband, and a dad!
Some speculate the grown up Hamburglar is a response to McDonald's history of using cartoon marketing to woo children. McDonald's new Hamburglar may also be an attempt to court Millennials who have been turning away from fast food in favor of fresher and healthier alternatives. Bringing back a beloved mascot is certainly one way to connect with a younger (but not too young!) and hipper audience, and KFC appears to be doing it quite well with its pop-culturized version of Colonel Sanders.
McDonald's has hit upon some unlikely social media gold with its awkward and some say downright creepy new Hamburglar. The Twitter universe lit up with hilarious commentary referring to the Hamburglar as a "hipster" and comparing him to the "Trivago Guy". The Verge referred to the new character as "…a dad who picked the lamest costume at Party City." The jokes and confusion over the new character even gave way to the hashtag #notmyhamburglar. Everyone, from the New York Times to Marketwatch to Mashable, to Huffington Post, is talking about the new Hamburglar.
McDonald's social media strategy has centered around creating a "fun" image for the brand, and acknowledging the fact that the brand will always have its detractors as well as its advocates (Whiteside, 2013). As such, the company elected to unveil the new Hamburglar via a series of short "teaser" videos on Twitter. Unfortunately, the videos, featuring the Hamburglar in the stereotypical bumbling husband role have fallen flat with viewers.
McDonald's is no stranger to the ups and downs of social media. In 2013, the company received unlikely social media attention when a video interview with Charles Ramsay went viral, following the horrific revelation and release of three Cleveland kidnapping victims. Ramsay was quoted as saying, "I was just eating my McDonald's" when he heard the cries for help. McDonald's was slow to respond after it was immediately thrust into social media conversation, but eventually ended up offering Ramsay free Big Macs for a year, and donated on his behalf to an organization for kidnap victims (Whiteside, 2013).
For better or worse, the new Hamburglar will most likely continue to be the butt of Internet jokes and will continue to generate E-wordof-mouth for the brand through sheer absurdity. It will be interesting to watch and see if McDonald's attempts to join the fray and poke fun at itself a bit. Trivago, criticized for the sloppy appearance of its lackluster front man, held a public contest to give the guy a makeover, spinning an Internet joke into a marketing opportunity. Will McDonald's intervene and admit that the new Hamburglar is just an out-of-touch suburban dad going through his first and most dramatic of many midlife crises? Or will he steal our hearts, along with our Big Macs?
References
Whiteside, S. (2013, June). Creating a more human brand image: McDonald's social media strategy. WARC.