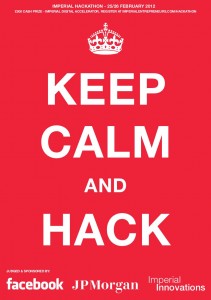 http://imperialentrepreneurs.com/hackathon/
Hacking as a means of creating and testing new ideas is the new wave of the future. Many companies (i.e. Facebook, Google, Blackberry, and Foursquare- just to name a few) have been in the practice of hosting organized hackathons and swear by their effectiveness. Chang (2012) notes that Facebook's timeline, Video, the Like button, and Chat all made their debut at a hackathon. Essentially, a hackathon is the offspring of a focus group turned experiment for computer geeks. Instead of answering questions with answers, they stroke the keypad and search for innovative solutions then test them.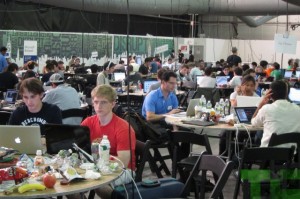 http://techcrunch.com/2012/05/19/meet-the-disrupt-ny-2012-hackathon-hackers/
So what can a hackathon do for your company? With the growing amount of communication taking place on the internet, what company doesn't need new innovative ways to deliver that content? Hackathons can keep a lively, thrill seeking edge on employees' work and hinder groupthink. Not to mention the increase of employee moral that arises from this fun and engaging affair. It also gives the employees a worry free environment to encourage creative thinking without possibility of failure. This imaginably leads to the employees feeling their contributions are valued as well as facilitating collaboration between employees. So, basically, a hackathon can potentially do a lot for your company. From conquering software related issues to improving the company's culture, hackathons could be the next big thing.
Chang, A. (2012, July 20). Deep Inside a Facebook Hackathon, Where the Future of Social Media Begins. Retrieved from http://www.wired.com/gadgetlab/2012/07/facebook-gears-up-next-big-thing-in-three-day-camp-hackathon/2/