Brands are gearing up for the upcoming Black Friday. As the busiest shopping season of the year, Black Friday will bring huge profits to businesses. According to Shopify, companies generated more than $1.5 billion online in revenue at this time last year. Also, based on the statistic from Adobe Analytics, online sales of Black Friday in the United States reached $6.22 billion in 2018, up 23.6 percent from the previous year and a record high. In order to seize business opportunities, brands actively take different approaches, hoping to stand out from their competitors. Simply sending email to offer discounts may not appeal to consumers, so sometimes they need to find a new way. Here are two ways that businesses used last year. You can also see if you have received similar email this year.
1. Don't ignore sales before and after black Friday
According to Amazon, stores also generate excellent sales the week before and the week after Black Friday. Therefore, businesses can choose to take early action or postpone the end time to maximize profits.

Last year, Wool and the Gang started "Black Thursday" the day before Black Friday and informed the customers through email. Kate Spade also sent an email to the sender under the name Kate Spade Surprise, announcing the advance black Friday promotion.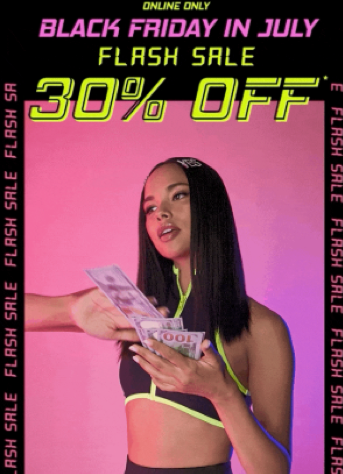 In addition, in December, Doggyloot sent customers an email claiming to take them back to black Friday, hinting at upcoming deals. The company managed to create a sense of black Friday, even though the discounts were modest. Forever 21 has taken a similar approach, with a sale on a Friday in July that is defined as "black Friday in July."
2. Find ways to get your customers to open the email
On black Friday, every shopping website will give "best deal", "free delivery", and other benefits. Giving these benefits alone may not make a brand stand out from competitors. When consumers receive countless emails, how to get them to open the email of the brand and enter the corresponding shopping website becomes important.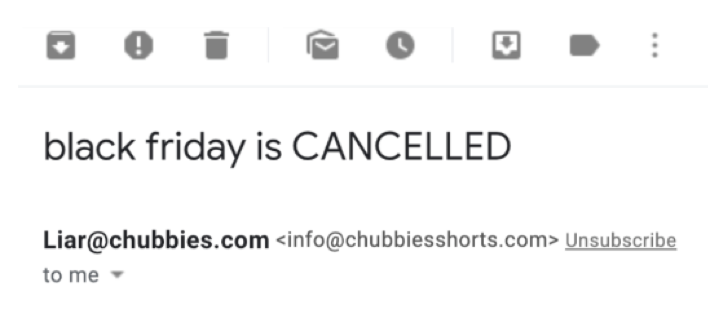 Chubbies sent an email last year titled "Black Friday is CANCELLED." At a time when other brands were pushing discounts like crazy, Chubbies's uniqueness might catch people's attention. Customers could only go to the website to find out why black Friday was cancelled.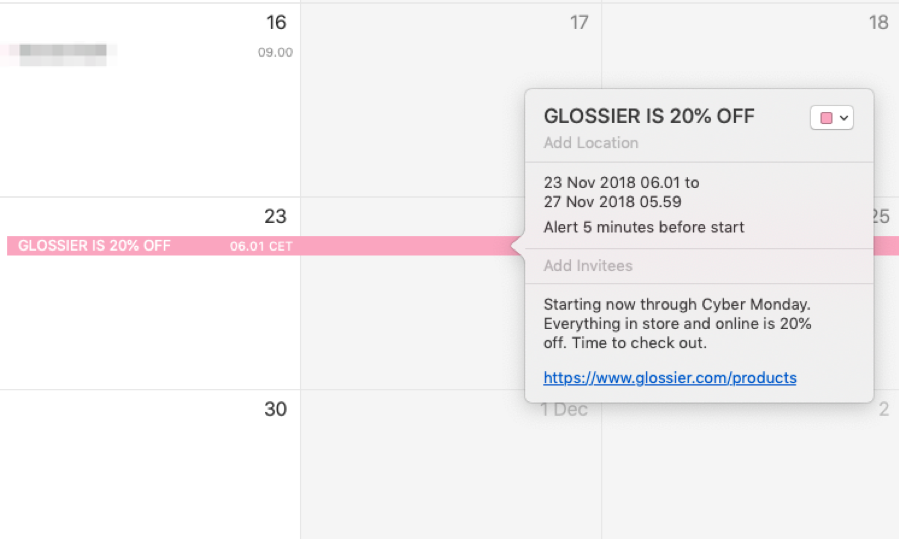 Also, Glossier took a different approach — helping consumers prepare. Glossier's emails allowed consumers to add events to their calendars by clicking the "add to Cal" button to remind people not to miss the discount. The email helped Glossier successfully boost their email conversion rates during the busy shopping season. Moreover, some brands, like Happy Socks, have chosen not to show specific discounts in emails. This way of hiding the offer took advantage of people's curiosity to get them to open their emails.
Reference
https://www.business2community.com/marketing/stand-crowd-black-friday-cyber-monday-01701229