By: Alexis Santoro
Marketing trends are all about social media this, and hashtag that.  But what exactly is the infamous hashtag really about, and does it actually work?  Is the use of a hashtag a marketer's goldmine, or just another trending buzzword?  We do know that social media has changed the landscape of marketing and communication, as well as consumer behaviors, so there's gotta be something to it…right?
In searching for the truth behind the hashtag, I decided to look at some of the best and worst social media campaigns in hopes of becoming more #hashtagliterate.  For starters it's good to know that the hashtag didn't exist until 2009, yet has quickly become a marketing go to.  Most brands now utilize social media and a unique hashtag to support or drive a campaign, and it even has it's own category within the AdWeek Shorty Awards (Monllos, 2015).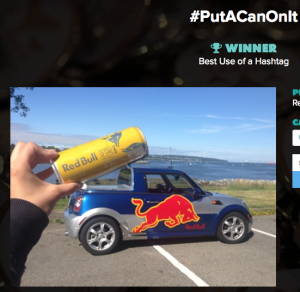 Notable brands who have used the #hashtag correctly include Redbull with
#PutACanOnIt, AT&T's latest campaign bringing awareness to texting and driving with #X, and the popular TV show The Voice with #VoiceSave, to name a few (Monllos, 2015).  For me, the stand out #hashtag campaign was Always #LikeAGirl.  Not only did this campaign go viral and increase brand awareness, it is changing the perceptions and discussions around girls' self-esteem.  The hashtag helped Always receive 76 Million video views on YouTube and 4.4 BILLION impressions from the hashtag (Monllos, 2015).  Ok ok, the hashtag thing had me at #billion, but are you bought in?
Before we all start running to Twitter and Instagram to see what hashtags are trending or available, let's take a moment to learn from some of the worst social hashtag campaigns.  McDonald's #McDStories is one of the worst brand social hashtag failures, ever.  What was meant to be a positive place for customers to share their happy McDonald stories, turned into a PR nightmare in seconds.  Another epic failure was from the Canadian company, Research in Motion.  They failed to identify what their abbreviated hashtag would read to the public when promoting new jobs with #RIMjobs (yikes).  NYPD attempted to show good citizenship and openness with the community with #MyNYPD.  Timing and sensitivity to current events is everything when it comes to social media.  The NYPD did not take this into consideration when launching their campaign.
(BELOW EXAMPLES: From the #McDStories hashtag failure)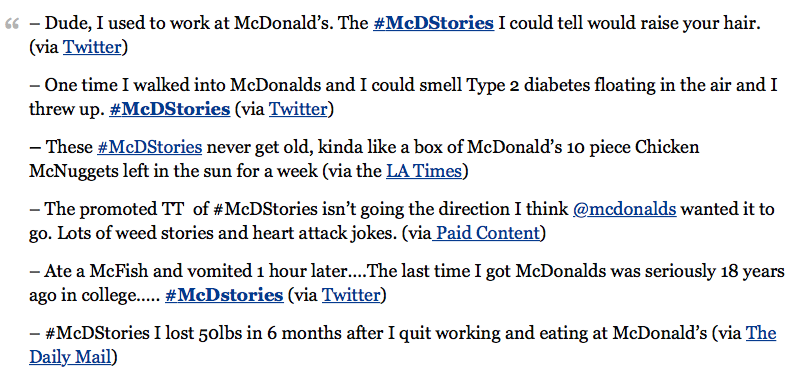 So, what can we learn from the greats and not so greats?
Do:  Use engaging and actionable language in your hashtag. (Example: #tweetfromyourseat) (Kolowich, 2014)
Don't: Launch a hashtag without getting other opinions and perceptions.
Do:  Use emotion. (Example: #LikeAGirl)
Don't: Launch without checking to see if it's already being used and trending.
Do: Show personality and keep it simple.
Don't: Not listen and watch for negative use of the hashtag, and always have a plan in place for crisis management.
Happy #hashtaging!
Reference:
Kolowich, L (2014, May 23). The Rules of Twitter Hashtags: Hits and Misses From 7          Big Brands. Hubspot [blog]. Retrieved from:          http://blog.hubspot.com/marketing/twitter-hashtag-campaign-examples
Monllos, K. (2015, May 23). Check Out 2015's Shorty Award Winners for the Best Use          of Social Media, Apps and Video A few big names and quite a few surprises. AdWeek. Retrieved from: http://www.adweek.com/news/advertising-branding/check-out-2015s-shorty-award-winners-best-use-social-media-apps-and-video-163627
Wagner, M. (2014, December 20). Corporate social media fails of 2014: big brands make         big mistakes.  NY Daily News.  Retrieved from:
http://www.nydailynews.com/news/national/biggest-corporate-social-media-fails-         2014-article-1.2051168