I think its fair to say that Starbucks coffee has been branded from just a commodity to an expensive yet pleasurable coffee experience.   Then we have the brand Adidas who has established positioning off of values and beliefs causing loyal customers. I love both brands so I can never get enough of seeing these brands on billboards and tv commercials. However, when it comes to comedian Kevin Hart, am I drinking the Koolaid, if I agree with him when tells everyone that he is a brand? I mean, he is on the bus stop billboard, in magazines, hosting award shows, in commercials and not to mention in a thousand films per year.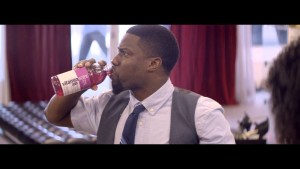 Hart is a comedian, producer, spokesman and actor who has a net worth of $85 million. As of December 2013, Hart has been in over 30 feature films and 20 television shows.  He is all over the place. Television show credits include Barbershop, Death of a Dynasty, Drillbit Taylor, Epic Movie, Extreme Movie and Fool's Gold. Film credits include Help Me Help You, Judd Apatow, Kröd Mändoon and the Flaming Sword of Fire, Let Go and Paper Soldiers amongst others.  Lets not forget about his stand-up comedy tours. Oh, did I mention that he has an endorsement deal from Nike and is the first comedian to have his own sneaker?  Even though there is animosity between comedian Mike Epps and Hart…Epps says that Hart is positioned where he is, due to  "good ol' marketing."
Unlike the tasteless marketing campaign from Ford for their Figo hatchback, you won't find Hart showing women "bound and gagged in a car trunk, as celebrities like Paris Hilton and Silvio Berlusconi sit behind the wheel."   What you may find is Hart on Instagram with a pair of Nikes' running on a treadmill or on FaceBook taking a selfie with a Serena Williams during the US Open.  All strategically done as a part of his integrated marketing plan. Hart has the visual component, the tone and voice all working in his favor.  Harts' brand gets paid attention to, and definitely has a say over the lives that some live.  Maybe its because of the $2 million he receives if he sends a tweet about a new movie coming out.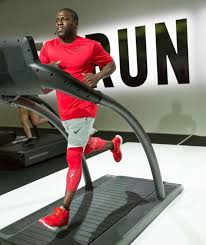 Lets think about it for a moment. Hart has found his target market, he a strong message, money, mission and his media presence is undeniable.  I mean this guy is all over the place, film, tv stage and commercials, but how much is overkill when it comes to Hart considering himself a brand and seeing him all over social media?  Is he being overexposed?  Are we seeing too much from the comedic genius? I say who knows and who cares because he is a brand that is very successful and I wish him continued success in the industry.  Oh yeah, did I mention that Hart has started a production company called Hartbeat Productions, he is one of the "100 most influential people in the world on the annual Time 100 list", and has just partnered with Lionsgate to form the "Laugh Out Loud" video-on-demand service?
Whether someone wants to consider Hart as a brand or not, it's undeniable that Hart has found a way to stay relevant in the entertainment world.  his is proven by logging onto a social media site on any given day and you will find a post from him.  With that said, maybe Hart isn't a brand, but instead Hart is more of  a "lifestyle."  I for one am not tired of seeing him all over the place! 
References
Coughter, P. (2012). How We Connect. In The art of the pitch: Persuasion and presentation skills that win business (p. 52). New York: Palgrave Macmillan.
Kevin Hart Net Worth | Celebrity Net Worth. (n.d.). Retrieved from http://www.celebritynetworth.com/richest-celebrities/richest-comedians/kevin-hart-net-worth/
Kevin Hart Says He's His Own Brand After Sony Executives Call Him a Whore. (n.d.). Retrieved from http://www.theroot.com/blog/the-grapevine/kevin_hart_says_he_s_his_own_brand_after_sony_executives_call_him_a_whore/
Kevin Hart Slams Haters, Defends His Marketing Skills: 'Do We See the Level of Ignorance'. (n.d.). Retrieved from http://www.thewrap.com/kevin-hart-slams-haters-defends-his-marketing-skills-do-we-see-the-level-of-ignorance/
McNary, D. (2016, March 13). Kevin Hart Partners with Lionsgate on 'Laugh Out Loud' VOD Service | Variety. Retrieved from http://variety.com/2016/digital/news/kevin-hart-vod-service-lionsgate-laugh-out-loud-1201742608/
You Won't Believe How Much Money Kevin Hart Is Paid To Tweet Things – CINEMABLEND. (n.d.). Retrieved from http://www.cinemablend.com/new/You-Won-t-Believe-How-Much-Money-Kevin-Hart-Paid-Tweet-Things-68835.html