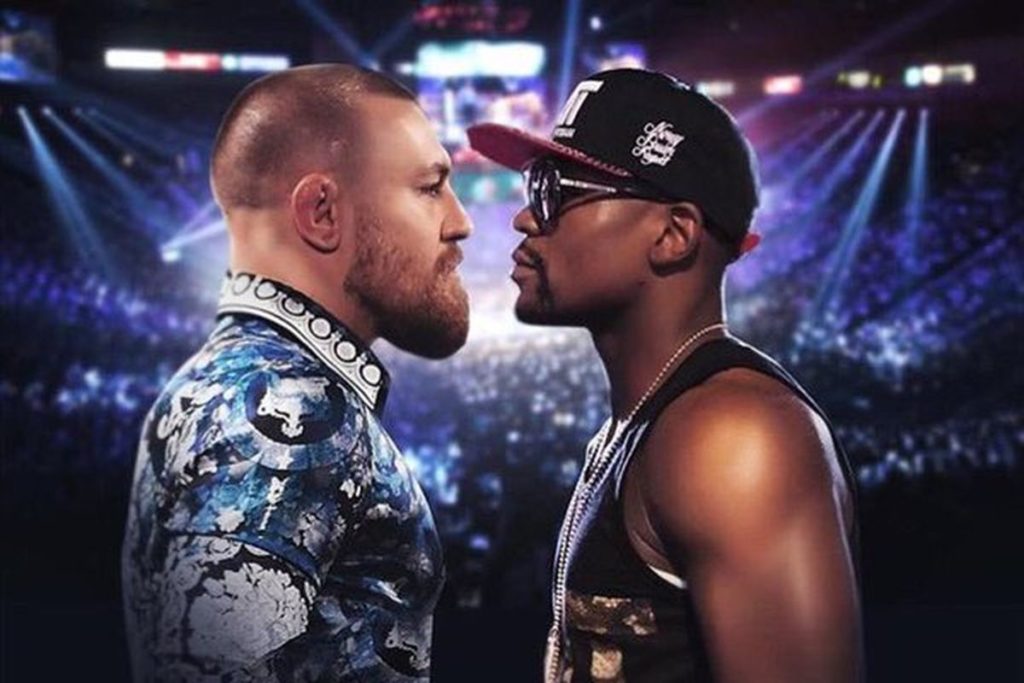 In the words of the late great Ned Stark, "Winter is Coming".  Saturday, August 26th brings the possibility of delivering a spectacle in the fighting world not often seen.  Two controversial figures, neither of which has any intention of losing to the other, an undefeated record, and enough hype to get people to stop fuming over Washington, if only for a minute. But at its core, particularly in today's environment, what is it that "fans" are really hoping to see? Simple poll results are hardly difficult to imagine should black and white fans be asked to proclaim a future winner and that in itself is a true shame. This fight seemingly represents a boiling point in American society – or maybe I'm giving it too much credit, or just thinking to darkly.  I hope I'm wrong, I truly do.  But take a look at your newsfeed if you think so.
In the midst of that grim reality is the fact that regardless of the outcome, both Floyd Mayweather and Connor McGregor have already won. From a marketing standpoint, anyway. Or in the words of Wetpaint:
"The fight isn't really what's being sold..  What's being sold here is the experience – the press conference face-offs, the back-and-forth arguments between boxing and MMA fans, the one-liners exchanged between McGregor and Mayweather.  All this and more.  What's being sold is everything surrounding the product.  In this case, the product just serves as an excuse for its own marketing, because the marketing is where the real action is", (Wetpaint, 2017).                                   
Mayweather's previous fight with Manny Pacquiao grossed nearly $624 million dollars (USD), (Crosby, 2017) and current projections would suggest that the final numbers on this fight would "eclipse" that, (sorry, I couldn't resist). Regardless of the outcome, not are only are both of these fighters going to be in for a major payday, but so too are the many sponsors.  Should the fight be a good one, it could even do much for moth boxing and the world of mixed martial arts, the latter badly needing some good news after Jon Jones once again wound up on the wrong side of a performance-enhancing drug test, today (Okamoto, 2017).
The racism discussion is one that has already even been called into question, (Marroco, 2017), after McGregor was heard making controversial remarks at one of the press conferences. Great.  As if the world was missing that.  But it's the controversy that has also helped lend a hand in the marketing of this event.
Time will tell as to who will come out victorious in the ring on Saturday, but in the eyes of the world, the marketing of this event has built a monster.  Whoever wins, here's to hoping the rest of us can channel are inner- Apollo Creed and Rocky Balboa to one day become trusted friends.
References
Mayweather vs McGregor: 4 Content Marketing Lessons "The Money Fight" can Teach You. (n.d.). Retrieved August 23, 2017, from http://www.wetpaint.co.za/mayweather-vs-mcgregor-4-content-marketing-lessons-the-money-fight-can-teach-you/
Crosby, C. (2017, June 15). The Fight Is On: Mayweather, McGregor And Sponsors Look To Cash In Big. Retrieved August 23, 2017, from https://www.forbes.com/sites/chasecrosby/2017/06/15/the-fight-is-on-mayweather-mcgregor-and-sponsors-looking-to-cash-in-big/#7bc3d1c379e7
Okamoto, B. (2017, August 22). Dana White: Jon Jones failed UFC 214 drug test; title not stripped. Retrieved August 23, 2017, from http://www.espn.com/mma/story/_/id/20422093/jon-jones-failed-drug-test-ufc-214-ufc-president-dana-white-says
Steven Marrocco July 13, 2017 10:40 pm, & By: Steven Marrocco | July 13, 2017 10:40 pm. (2017, July 14). Conor McGregor strikes different tone on racial remarks after bombing on stage in New York. Retrieved August 23, 2017, from http://mmajunkie.com/2017/07/conor-mcgregor-explanation-racial-remarks-floyd-mayweather-new-york-world-tour