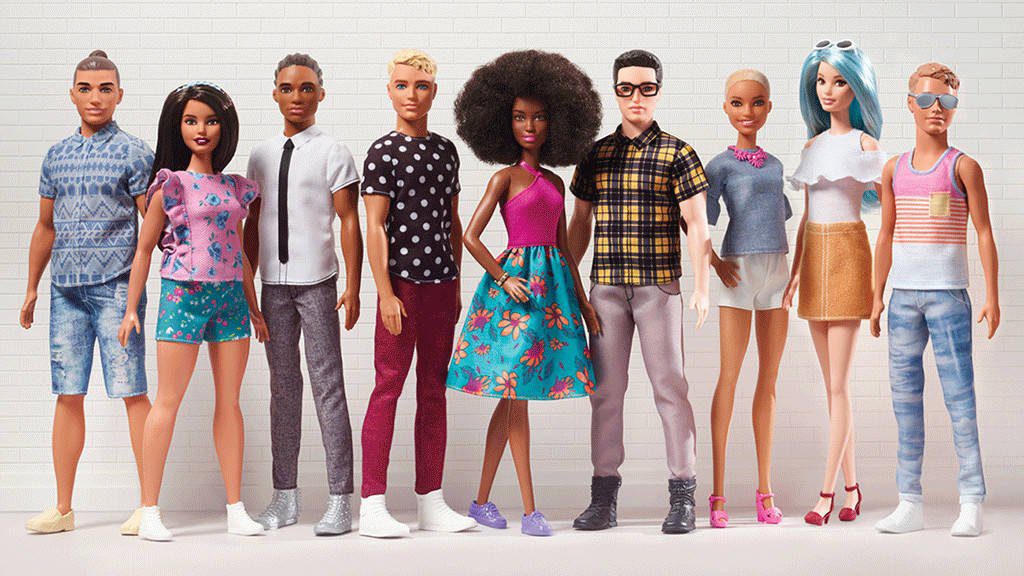 In the mist of the social media driven world of beauty that encourages unrealistic #bodygoals, flawless contoured make-up, 22- inch lace front wigs,  and a morning cup of the ever so popular "flat tummy tea", one of America's most beloved toy makers, Mattel Inc, is attempting to provide some sort of balance to the youth by offering a new line of trendy-yet-realistic "fashionista" Barbie and Ken dolls that are more diverse and offer a selection of more curvier, taller and petite Barbies with a wider range of skin tones, hair textures and hair colors.
"We are redefining what Barbie or Ken doll looks like to this generation", said Lisa McKnight, senior vice-president and general manager for Barbie (Lisi, 2017). Barbie's new makeover is apart of Mattel's new marketing campaign #TheDollEvolves, which launched in January of 2016 (Kirkpatrick, 2016). The release includes three new body shapes that are aimed to encourage body positivity amongst young girls and to also help shift Barbie's long standing history of promoting unrealistic body standards (Kirkpatrick, 2016).
Of course, it would be foolish to believe that Barbie and Ken's new makeover is solely motivated by Mattel's new found understanding of the importance of body positivity amongst young girls, and not heavily influenced by their declining sales. According to Time, "in 2012, Barbie global sales dropped 3%. They dropped another 6% in 2013 and 16% in 2014." (Kirkpatrick, 2016). However, since introducing their new #TheDollEvolves marketing campaign, Barbie has seen a spike in sales and "sales rose 7% from the previous year, to $972 million. That accounted for 18% of Mattel's total worldwide net sales of $5.46 billion." (Tschorn, 2017).
Earlier this week, Mattel introduced 15 new diverse Ken dolls which include two body types and six skin tones and hairstyles (Frey, 2017). It appears that Barbie's new marketing campaign is working really well for them and is contributing to their their spike in sales. What do you think of Barbie and Ken's new look? Do you think Mattel will continue to see a rise in sales with their #TheDollEvolves marketing campaign? Is it too gimicky? Let me know in the comments below! 
References:
Frey, K. (2017, June 20). Barbie Launches 15 New Diverse Ken Dolls. Retrieved from http://people.com/style/new-diverse-ken-doll-launch/
Kirkpatrick, E. (2016, January 28). Barbie Just Got A Very Body Positive Makeover. Retrieved from http://people.com/style/barbie-just-got-a-very-body-positive-makeover-she-now-comes-in-curvy-petite-and-tall/
Lisi, B. (2017, June 21). Mattel introduces new looks for Barbie's boyfriend Ken – NY Daily News. Retrieved from http://www.nydailynews.com/news/national/mattel-introduces-new-barbie-boyfriend-ken-article-1.3262886
Tschorn, A. (2017, June 20). Barbie, are you ready for man-bun or Dad-bod Ken? – LA Times. Retrieved from http://www.latimes.com/fashion/la-ig-ken-body-style-20170620-story.html