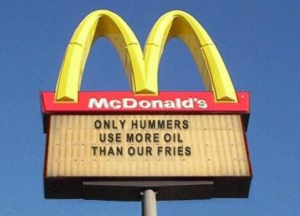 McDonald's has long been under fire for its genetically modified food practices. It has further been accused as disrupting American farms. Now, the food industry giant has a problem overseas. London, the home of the 2012 Olympics, recently witnessed the world's largest McDonald's being built. The 1,500 seat, 32,000-square-foot, and 2-floor restaurant is located in Olympic Park. This location is expected to sell more than 50,000 Big Macs during the Olympics.
The new location is causing a serious backlash. A group named the London Assembly is raging a ban on McDonald's during the games. The group alleges that McDonald's helps increase the growing obesity epidemic in their country. It is said that 60.8 percent of adults and 31.1 percent of children are overweight in the UK. Moreover, McDonald's refuses to abide by guidelines to use a specific percentage of its produce from farms within the UK. Groups suggested to the International Olympic Committee that hosts of the games must conform to strict rules to not outsource a large number of products as a basis to increase profits within the UK. McDonald's will only source half of its ingredients from the UK.
McDonald's believes that it should be allowed to operate how it sees fit because the organization has reportedly spent close to $100 million dollars over the course of four years for hosting the games as a sponsor. However, more problems arise from the manner in which McDonald's marketing communications has responded. The chief executive at McDonald's UK believes the location in the Athletes Village will be the most busy. One would have to be delusional to believe that athletes will run to grab a Big Mac. McDonald's has also responded by stating:
Did you that McDonald's will recycle and reuse 100 percent of the furniture and equipment, and nearly all of the building materials from these restaurants, for future and existing restaurants. All types of materials – from the beams to the wiring to the kitchen equipment – will be labeled for sorting and relocating to future destinations following the Games.
Yes, this is a good move, but it is a subterfuge. Will they follow through with it? This is not the first time McDonald's has faced marketing controversy. Earlier this year, McDonald's did a social media promotion on Twitter to encourage people to tweet their favorite McDonald's stories using hashtags. Subsequently, the promotion became an utter fail. The organization was received with stories about finding worms in their meals and serious health conditions from the food. Yet, McDonald's has received high scores for its social media marketing on Facebook and Twitter over similar organizations like Taco Bell, Chipotle, and Subway.
McDonald's should have better marketing plans in place in case of backfire. Today, communication travels fast and it seems like McDonald's does not understand how to cope with backfires or simply does not care about saving face. Sadly, 1 in 10 visitors at the Olympics will eat at the fast food chain. McDonald's is in the business of making money, but it does not seem to realize how large its impact is on the people and communities around its locations.
The organization's marketing efforts should include changes to alter how consumers view their products. One initiative that could change the organization's image would involve actually using produce from local farms. Healthy alternatives that are not genetically modified would greatly improve not only its image, but also the people who consume their food. The organization should take advantage of its online communities and urge for their consumers' suggestions and actually act on them.
Please let me know how you feel about this issue and leave a comment.
Here is a time-lapse video of the location being erected.