Fashion Nova is a clothing brand built on what fashionistas are obsessing over on social media. They take statement pieces from high profile celebrates and create an affordable version within days of the outfit being seen on a celebrity. The founder and CEO Richard Saghian feels runways are the past and now with the marketing strategy of instant gratification, people want what their favorite star is wearing NOW.
Starting with reality stars and social media influencers, the brand would use them to model or promote their Instagram page. Starting with a handful, the brand now has 3,000 influencers within different markets such as fashion stylist, lifestyle bloggers, celebrities, reality stars, and social media stars. This has made the company now have a 600+ staff within three years of launching. This empire erupted without opening a single store until late Fall 2016. The company only had a website for purchasing and all marketing strategies were via social media; specifically, Instagram.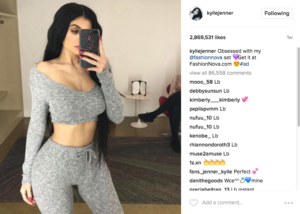 Celebrities helped Fashion Nova take over our social media. From a company that used to only copy what the stars wear; now the celebrities are creating the original designs and promoting it themselves with "special discount codes." The new fashion empire has created a limited amount of product creating a desperation of getting it before it's gone.
Is this the future on entrepreneurship and marketing? Launching a company on social media before opening a single store? Fashion Nova has 6 million Instagram followers and 3/4 of their customers return to the site within 90 days purchasing more; making the company now add an average between 400-500 new styles to the site each week to keep up with the demand.
The marketing strategy was flipped starting on social media before opening an actual store. Is this the safe way to start a business or did the company just get lucky? Is there going to be a point where consumers do not believe that their favorite star shops where they are endorsing?
Fashion Nova grew quickly in three years with constant growth and demand; can their marketing strategy last long term or are they going to need to set up more shops to become a true respectable fashion retail brand; something they claim is outdated and dying.
Leticia, Miranda. (2017. March 13).How Fashion Nova Built An Entire Fashion Company Completely On Instagram. Retrieved from https://www.buzzfeed.com/leticiamiranda/fashionnovautm_term=.xcooGlgVz#.qkBgRdBmW
Mercer, Amirah. (2017, January 29). How Celebrities Helped Fashion Nova Take Over Your Instagram Feed. Retrieved from https://www.vice.com/en_us/article/how-celebrities-helped-fashion-nova-take-over-your-instagram-feed-and-your-wallet