It is no surprise that television viewership has been on a steady decline over the last few years. It has come to the point where the value of the Nielsen ratings system is now being questioned. Streaming services have a lot to do with the decline in television viewership. According to recent studies, Netflix viewership reached a total of 42.5 billion hours in 2015 and accounted for half of the 3% decline in television viewership.

In recent years, more viewers are becoming familiar with video streaming services and the merge of television and social media. With the constant rise of multiple interactive social media platforms, television is becoming a less engaging form of entertainment. The fact is that viewers and audiences are becoming more active on mobile devices. According to a recent study, 84% of mobile device users use their devices during programs. Sports organizations and TV companies have started to acknowledge and cater to today's active audience and have started to team with social media companies to stream live games and events. In 2010 ESPN launched an internet TV site and mobile application called WATCHESPN, which offers an online cast of the ESPN channel as well as live sporting events from around the world.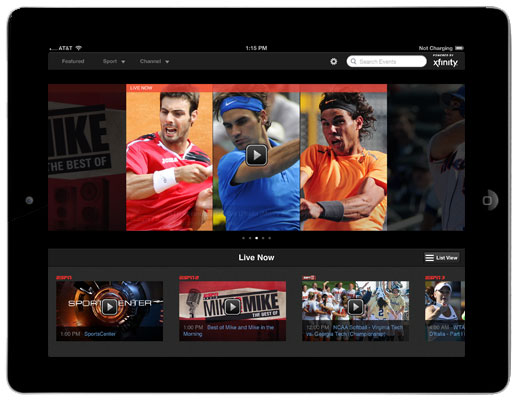 The app has led to a great deal of success for the company and is still running to this day. With users wanting to be more interactive during live programming, new ideas have sparked regarding live sports streaming and fan interaction. Facebook and Twitter have recently partnered with major sports organizations and television companies to provide live events on their platforms. By streaming live events on social media sites such as Twitter and Facebook, fan engagement is increased which can lead to increased viewership. Just this year, both social media sites aired live coverage of the PGA Tour's FedEx Cup and while Facebook has agreed to air USA Olympic Basketball games, Twitter is currently in a deal with the NFL to air live Thursday Night Football games on their interactive platform.
While many have questioned the success and execution of sports streaming, it is evident that providing consumers and viewers with interactive platforms (for sports events), that increase "virality," will be a common strategy in the next few years. According to recent studies, Apple TV is looking to partner with Twitter in order to provide live games to its viewers. With the increasing popularity of social media, live broadcasting, and video based media, the future of sports may soon require your login information.
References:
Chang, L. (2016). Netflix caused us to watch less tv, study more reports. Retrieved from http://www.digitaltrends.com/movies/netflix-tv-decline/
Kamal, S. (2016). Rethinking the second screen. Retrieved from http://clearbridgemobile.com/rethinking-second-screen-social-tv-and-the-active-audience/
Leung, D. (2016). Twitter and face book's big push into live sports streaming starts with the nfl. Retrieved from http://www.sporttechie.com/2016/08/30/socialmedia/twitter-facebook-create-sports-live-streaming-viewing-experience/
Leung, D. (2016). The future of live streaming sports lies with social media networks. Retrieved from http://www.sporttechie.com/2016/07/25/socialmedia/future-of-live-streaming-sports-lies-with-social-media-networks/
Roussanov, B. (2016). The netflix effect: Television ratings in the internet age. Retrieved from http://harvardpolitics.com/culture/netflix-effect-television-ratings-internet-age/
Spangler, T. (2016). Netflix caused 50% of tv viewing drop in 2015. Retrieved from http://variety.com/2016/digital/news/netflix-tv-ratings-decline-2015-1201721672/