Every year, companies such as Target, Macy's, Best Buy and others launched their marketing commercials for the Holiday season.  Target was one of the first shopping retailers to broadcast their 2014 Holiday season commercial a few days ago.
Target, known for its bulls eye logo and dog as its mascot, released something unique this year.  Target's new holiday commercial features a little girl in a "Marshmallow World." This world is full of toys, candies and of course marshmallows (Rayburn, 2014). The concept behind this "world" was taken from the scenes of Alice in Wonderland ( Target, 2014). Rather than focusing on the products in previous marketing campaigns, Target created a "feel" of this world not only for children but adults as well. The whole concept of this campaign is to convince the potential and loyal customers and children to visit Target. Target hopes that this commercial would convince children to bug their parents to the point they want to go there and experience "Marshmallow World." From a recent press release, Target stated that some of its stores would transform into a Winter in Wonderland world (Target, 2014). Again, we are beginning to see some companies implementing more on the "experience" than showcasing popular brands e.g. like the John Lewis' Christmas advert commercial.
Another way Target is making this marketing campaign more interactive than previous years is through the development of a new Wish List application that targets mostly teens and young children. This Wish List application, similar to a registry, can be downloaded in mobile and tablet devices (Target, 2014). Target hopes that it can be a fun way to involve family members. This is a very cool app that gives children the freedom to pick out the items they want for Christmas and gives family members the opportunity to see what they like. If I was a kid or a teenager, this is a good approach to tell my parents or Santa Claus what I really want. Parents will find this app helpful since it gives them  some savings, 10% off any items on the wish list as well (Rayburn, 2014). Great marketing campaign to start of the 2014 Holiday shopping experience like the John Lewis Christmas Advert commercial we read and saw a few weeks ago.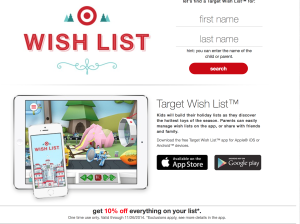 References:
Rayburn, B. (2014). How Target is utilizing digital marketing efforts in new holiday campaign.New England Publishing Group, Inc.  Retrieved November 30, 2014, from http://nepubinc.com/target-utilizing-digital-marketing-efforts-new-holiday-campaign/
Target Blog. (2014). 360 degrees of holiday: a look at Target's holiday marketing campaign. Target. Retrieved November 30, 2014, from https://corporate.target.com/discover/article/360-degrees-of-holiday-a-look-at-Target-s-holiday
Target Holiday 2014 commercial. (2014). Youtube. Retrieved November 30, 2014, from https://www.youtube.com/watch?v=ifvRgJMfop4