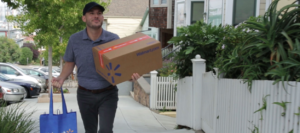 Retail giant Walmart (WMT) announced a tertiary partnership with same day delivery leader Deliv and security innovators August Home to create an efficient household of the future. A safe, clean, and well-stocked home so customers have the freedom to do more of what matters. The company plans to pilot an innovative customer experience in Silicon Valley that saves them time and money when it comes to delivery and grocery shopping.
As Walmart puts it, "These tests are a natural evolution of what Walmart is all about – an obsession in saving our customers not just money but also time, making our customers' lives easier in the process." Delivery network creator Deliv enables their retail partners to shift their perspective on what is possible when it comes to providing convenience for customers. Same day delivery solves the retail challenge of getting products and services to customers faster to meet their evolving needs. Deliv's experience creating an innovative delivery solution for the meal kit industry (called Deliv Fresh) lends a unique expertise to Walmart's strategic partnership.
With a values driven perspective that focuses on innovating solutions that solve industry challenges, Walmart is gearing up to power the household of the future. Security innovator August Home asserts, "We believe that the door to the home isn't just about keeping the bad guys out. It's also about letting the right people in—at the right times, on the right terms, and always under the homeowner's control." Walmart's trinity of innovation marks a Golden Age in Silicon Valley that has yet to impact stock trading behavior; investment strategy may evolve with new dynamics at play. Growing concerns for the cost of service is put into perspective by Tech Crunch writer Sarah Perez, "The company didn't say what this new service would cost, instead noting that pricing is something that the experiment will focus on. In other words, Walmart will try to determine what price a customer is willing to pay for this added convenience."
With a Trump Administration promise that middle-class income taxes will see a sizable reduction, Walmart's service may become a necessity that working individuals will be able to budget. American business owners like Walmart are providing consumers with a unique opportunity to, "help us shape what commerce will look like in the future."  Working hand in hand with customers, innovators, and political leaders will restore American business so that consumers are getting more value for their money.
August Home promises that this entire experience is under the customer's control, and Walmart commits that consumers will have input as to how much the service costs them long term.
Welcome to the future!
#samedaydelivery #siliconvalley #tech #startups #futureoffood #goldenageofinnovation
Sources:
http://blog.walmart.com/innovation/20170922/why-the-future-could-mean-delivery-straight-into-your-fridge
Walmart partners with smart lock maker August to test in-home delivery of packages and groceries