A few weeks ago, I received a postcard in the mail asking me to join a new social media site called "NextDoor." The joining code that you are provided is supposed to link you with a group of people within a certain radius of your home…your neighbors. It is an interesting concept to "meet" some of your neighbors that you may not otherwise meet. There are all sorts of things you can do on the website from welcoming new neighbors, posting items for sale, if you are looking for a good plumber, heck one of your neighbors might be a plumber. This year you can even go to a map and indicate whether or not you will be handing out candy this year. Yep, you can post just about anything on this website from a found dog to a garage sale you are having.
When I think of neighbors that are "next door" I tend to assume that next door is within maybe a 1 mile radius…depending on how your neighborhood is set up. Somehow I am part of neighborhoods up to 4 miles away. Why would I want to do that? The only reason why I see this as a positive, is that I can see what crimes and safety issues the neighbors are having.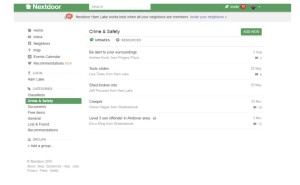 Communities are starting to branch out a little with the platform and about 1,400 police departments around the country are on Nextdoor. Police in Seattle are starting to use this website as a way to get involved in their neighborhoods that they patrol. According to the article, the Seattle Police Department feel that it helps them connect with the community and also learn more about the concerns of the neighborhoods. According to Nextdoor, one in five households have signed up for an account and almost 98% of the city's neighborhoods are represented. The website started out as a positive and quickly went downhill with some users using it to complain and stereotype individuals in areas where crime is an issue. This brought about paranoia and some users felt it was stigmatizing groups in the city.
Have you been asked to join Nextdoor or would you consider it?
Wadell, K (2016, May 04). The Police Office 'Nextdoor'. How Cops use Nextdoor for Community Policing. The Atlantic. Retrieved from http://www.theatlantic.com/technology/archive/2016/05/nextdoor-social-network-police-seattle/481164/