Just this week, Google announced the first TV ad for their new tablet, the Nexus 7:
This is curious timing, as several news outlets, including the LA Times and Forbes, are reporting that the Google Nexus has sold out, with even pre-orders for the next shipment of the 16GB version not available.
This scenario raises two interesting questions: How was Google able to sell millions of units of a brand new item without advertising, and why are the advertising at all?
The answer to the first question has everything to do with Google's rivalry with Apple. This rivalry is played out in the press, social media and by consumers themselves, with brand loyalty lines being clearly drawn in the sand. Ever since the iPad was a huge success, the world has been waiting for Google's answer, and that anticipation guaranteed massive sales. The media generated hundreds of stories about the product, anti-Apple users took to blogs and social media to declare how happy there were to have a choice in the performance tablet market (sorry, Acer and Amazon) and all of those thousands of words all acted as free advertising for the Nexus.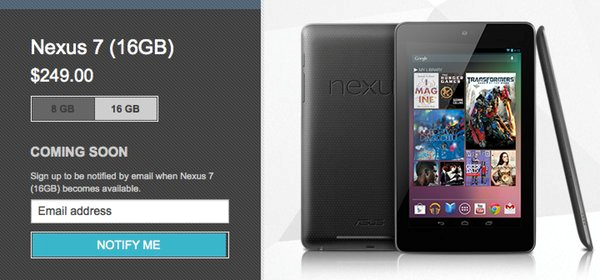 The second question is a little trickier, but my guess is that it has to do with keeping the cycle of anticipation going strong. If the Nexus commercials can help sustain interest in the product, but consumers are unable to get one, this can help build more excitement about the second 'launch' of the Nexus into stores. Also, the timing can help create articles like this one, where bloggers wonder about Google's strategies, furthering the narrative that Google and its products are newsworthy and capture the attention of journalists and hobbyists.
The question I am posing to the class is, how many companies/products could get away this type of product launch? At what point is a company so big that no matter, its products will always sell. I think a good analogy are movie franchises, such as Batman, Marvel Superheroes, and Harry Potter. They have built in audiences (like Google), are based on material that is already widely known (like the Nexus) and can reliably sell out their opening weekends before a single review has been printed (or TV ad aired).