The Right and Getting Left Behind on Social Media
"But I'm doing social media." This phrase came out of the mouth of one of my potential strategic communication consulting clients. She had been shooting her TV show "Cindy's Table" for years. She had even managed to book a few media appearances. However, her audience hasn't been growing. Why not?
Her content is good.
Her recipes are delicious.
Her show is pretty cute too.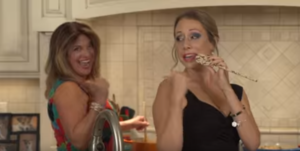 What Cindy Anschutz Barbieri is missing is building a relationship with her viewers and engaging in a real conversation. She had the learning aspect down. But what she didn't understand was engagement equals more than page follows and likes. Although her show is very educational, Cindy isn't using social media as effectively as she could be. Her team of interns simply reposts her show or post a photo with a general comment. If Cindy would be open to innovation, her social media could grow her audience. In fact, if you look at the top 10 social media mistakes made by small business owners, Cindy is making many of them. Reviewing two channels, Facebook and YouTube, what mistakes do you see Cindy making? How could she fix them so she is using her social media channels to the fullest?