Facebook wants to know. This is the question the Facebook alert system asks you if you are marked via your locational status as someone within the geographic proximity of an attack, natural disaster or otherwise life-threatening situation (Toor, 2016). The site allows you to respond either via text message or online to let others know you are OK by marking you safe. Introduced in 2014, Safety Check gives your online "friends," family and acquaintances peace of mind that you are accounted for and not missing, injured or worse (Baig, 2016).
While some have criticized Facebook for exploiting users by selling location and demographic data to marketers, it seems the company has found a way through Safety Check to utilize user specific data in a less controversial manner (Morran, 2014). The general premise of the Safety Check places Facebook in a "do good" role while acknowledging and encouraging safety and well being for its users.
However, while Safety Check has general good intentions behind it, some have found issue with the fact that the company has issued the alert system in response to some events and not others. Last year, the company came under fire for activating the checks in response to the November Paris terrorist attacks, but failed to issue the check after the bombings which took place in Beirut (Baig, 2016). This was seen as controversial as it made users feel as though Facebook was valuing the lives and well being of some of its worldwide (approximately 1.59 billion monthly) users over others (Smith, 2016). Mark Zuckerberg responded by summating that the company cares about all people equally and the intention was not to play favorites, but rather to alert people worldwide and look out for their safety (Rogers, 2016).
Then, a glitch in the alert system following the Lahore, Pakistan suicide bombing a few days ago on March 27, 2016 caused unintentional panic among users who received the alert by accident. I was one of these users. Here's what I woke up to on the home screen of my iPhone:
While I was saddened about the attacks and also thankful I was not nearby Lahore, I was somewhat concerned about my online affiliation with Pakistan, and quickly wondered how I had wound up on the alert list as someone located in this area. Did I somehow have online ties to Pakistan? How did location tracking data mark me in this region? What was Facebook doing with my personal data? The paranoia ensued. I was not alone in expressing this concern as many throughout Europe and even the United States reported that they had erroneously received the alert and were located no where near the bombing (Rogers, 2016).
To make matters worse, some Facebook users received texts indicating that there had been an explosion, but no further information about where the explosion had occurred. This created even more anxiety as Facebook failed to provide accurate or complete information when executing the text alert portion of the Safety Check. Take a look: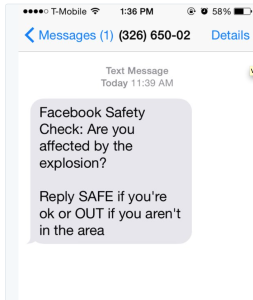 At the end of the day, most users were understanding and appreciative of Facebook's gesture, responding with comments like, "I live in Ohio, but thanks for your concern anyway Facebook!" but others weren't as pleased. Here's what some had to say:
What do you think about Facebook's Safety Check alert system? Does it do more harm than good? Do you find it helpful? Are you OK with Facebook using location data to find you? Moving forward, especially with the recently issued travel alerts from the State Department in response to the instability in the Middle East, how do you think Facebook should utilize Safety Check for future events? Should it be used for every single event (large or small, natural disaster or not) in any area of the world? Let me know your thoughts!
References:
https://consumerist.com/2014/06/12/facebook-is-now-selling-your-web-browsing-data-to-advertisers/
http://www.usatoday.com/story/tech/2016/03/28/facebook-apologizes-safety-check-error-after-lahore-bombing/82338260/
http://www.foxnews.com/tech/2016/03/28/facebook-safety-check-glitch-sent-out-misdirected-notifications-following-pakistan-blast.html
http://expandedramblings.com/index.php/by-the-numbers-17-amazing-facebook-stats/
http://www.cbsnews.com/news/facebook-apologizes-for-safety-check-glitch-following-pakistan-bombing/