Do you Squat?
Would you Squat for a free metro ticket?
Sochi 2014 Winter Olympics is coming soon and Russian Olympic Committee have started to create a noise by engaging people to fitness. Vystavochnaya station in western Moscow has a ticket vending machine that provides free metro ticket in exchange for 30 squats in two minutes. The machine will be in the Vystavochnaya station through November with the mission to add element of sports in daily life of people.
30 Squats challenge in Moscow.
I love this idea because there is engagement and involvement of the people. The Russian Olympic Committee could have developed ads and prints as well as other marketing elements to spread the message but they have implemented the idea by giving the feel of the message in an entertaining way to the audience. It creates an inspiration to exercise in contrast to receiving information only. The participation of the Olympic players in the activity has also influenced the people to consider the 30 squats challenge.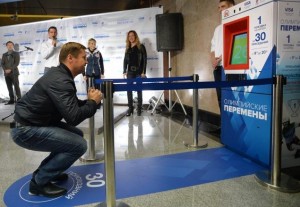 'Imagine a person who does 30 squats at least 2-3 times a week for a month? It will definitely add some basic fitness in the person's daily life. And as said, it takes only 21 days to form a habit. So, we never know if people will continue the habit for long term.'
P.S. USC is hosting 2014 Special Olympics Southern California Summer Games from June 6 to June 8.  Would you participate if they had a machine that would give you a drink as a reward for 10 Jumps in 2 minutes?