March is not only the time to celebrate Women History Month, but also marks a major demographic milestone in California — Latinos are now the largest single racial group in the state, making up 39% of the state's population (Lopez, 2014). Following New Mexico, California becomes the second state where Latinos comprise the largest percentage of any group.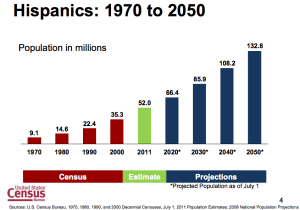 According to the U.S. Census, nearly one in three U.S. residents will be Hispanic by 2060. Hispanic population is expected to jump from the current 53 million to nearly 129 million (Shell, 2014). That population is also experiencing a rapid increase in spending power. This growth is largely driven by the family values and strong family ties of Hispanics – they are more likely to form households and have children, who contribute to household incomes, earlier than average (MacDonald, 2006).
Undoubtedly, with an expanding presence across the country and increasing spending power, Hispanics is reshaping the cultural landscape and redefining the American mainstream. Particularly in advertising, many leading brands are increasing their investment in the Hispanic market. According to Hall and Partners (2014), advertising spend on the Hispanic market is worth more than $5 billion, growing rapidly than that in other markets. "Historically brands were significantly under spending against Hispanics. There is now a great deal of catch-up going on" (p. 16).
For example, global brands such as Disney and Walmart are shifting their focus and making Hispanics core to their overall branding and advertising strategies. Late comers included international toy manufacturer Mattel, which launched its first Spanish-language multi-brand marketing campaign last November in three consumer markets in the U.S. (
www.mattel.com
). According to Mattel, this 100% Hispanic-oriented effort included
TV and radio advertising
on Hispanic media outlets, a retail partnership with Walmart stores, a bilingual website, geo-targeted coupons and printed advertising inserts in the participating markets.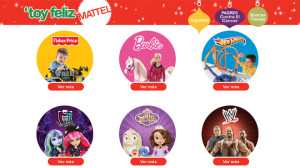 In order for brands to successfully create the connection with customers, they need to understand the social context of brands and the cultural conditions that exist around individuals (Hall and Partners, 2014). "Latin America is a hybrid of European, indigenous and African influences to different degrees across different countries" (p. 12).  As such, Hispanics have the natural tendency to blend new cultural trends with their Latin American roots to create a new cultural remix (Hall and Partners, 2014).
The California utility that I work for is in the process of developing its new brand. Through our company's 162-year history, a constant has been the continuing commitment and dedication to serve diverse customers and the millions of Californians who live in our service area. Understanding Californians are now at the forefront of a new cultural remix, it is necessarily for us to rethink the way we engage with our customers. As suggested by Llopis (2013), capturing the Hispanic market requires more than a total market strategy. As a result, qualitative customer research is in the works to offer more insights on how we can embrace this significant cultural remix in our new branding strategy.
References
Hall & Partners. (2014). Now Hispanic – Local Matter.