Nothing new about that. Mexican fast food chain, Taco Bell, broke into a new menu daypart last week: Breakfast; and they did it with nothing better than one competitive (-and some may allege "creative") advertising campaign. The "Big Idea"? Ronald McDonald. Wait? Isn't Ronald McDonald a brand icon of one of Taco Bell's major competitors? Absolutely, but humor and advertising can sometimes get along. Can't they?
It all started with the idea of recruiting an army of people legitimately named "Ronald McDonald", and –they were paid- to stand in front of a camera and literally say "Hi, I am Ronald McDonald and I LOOOOVEEE Taco Bell's new breakfast". Creative –sure. I'll give them that.
As expected this went viral. I mean- Ronald McDonald "loves" Taco Bell? Of course the video quickly landed on all social media sites, YouTube, and every .com news/marketing site you could think of… As I saw how this satire spread all over the internet, I couldn't help getting money-rolling eyed thinking of how much brand exposure Taco Bell was getting from this, and how much money they were saving on their media reach, because the truth is, the public was taking care of spreadin' the word about Taco Bell and their new breakfast line.
So, after claiming that Ronald McDonald "loved" Taco Bell, of course McDonald's responded gratefully for the admiration Taco Bell had shown. McDonald's response was clever, clean, creative, humorous, and of course MTGV (made-to-go-viral). "Imitation is the sincerest form of flattery" was their response (Checkmate!) -Ouch, Taco Bell! That was a slap in the face accompanied by a cute picture of Ronald petting a little Chihuahua (AKA Taco Bell's mascot).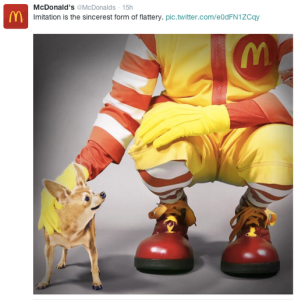 Was Taco Bell satisfied with this? Oh no.. They still had not one, but 2 (or maybe more) cards to play. Next comeback was a short social media video of a man (that seemed to be Ronald McDonald) taking off his red and white striped socks and putting on some new ones with tacos printed on them, all to the rhythm of "Old McDonald" and sealed with a "Ahh.. much better" line supposedly coming from Ronald. I mean… The breakfast war was on by now.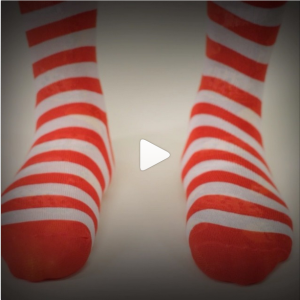 Just in case this Taco Bell's Ronald circus was not enough for Taco Bell to make a statement, they launched one more video using the same creative concept.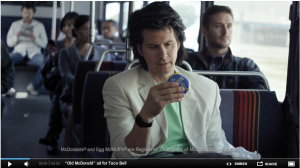 So, after watching a war between tacos and Ronald, here are my two pennies: Clever, Taco Bell. Bravo. However, I was quite disappointed by the lack of strategic thinking on the development of the first commercial (Yes- the one with the "I'm Ronald McDonald and I love…). Taco Bell "Vive Mas", has always taken pride on meeting the needs and wants of a hard-to-reach target demographic: Millennials. So why in the world, would Taco Bell use people from older generations (or older Millennials) to deliver that message? Did they skip "Targeting 101"? Yes, there were some young individuals on the commercial, and even a "Ronald McDonald Jr.", but what's with the setting? They couldn't use a more vivid, young, colorful, "Vive Mas" kind of set?
On a different note, -again, kudos to TB for being creative, but someone's gotta draw the line. How much more exposure do they want to create for McDonald's? not just as a brand, but also as a breakfast destination? And let's not forget the ultimate mention of the Egg McMuffin and how it's been an icon of breakfast for decades. I mean, come on Taco Bell.. you gotta know that publicity is publicity after all…
It's certainly been a week filled with a suculent breakfast war, whose' gonna serve the next round? We shall see.