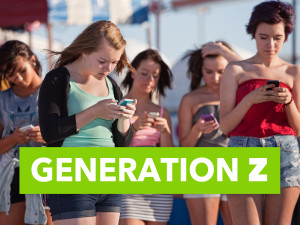 Just when marketers thought they had a grasp on how Millennials talk, shop, and what their social habits are (Instagram/Snpachat/Periscope), Generation Z has officially arrived (defined as born during the mid to late 1990s-present) and they are making the job of marketers harder than ever. Marketers and brands alike are trying out non-traditional tactics to speak Gen Z's language in a fun, unique way – through apps, pop-up shops, and immersive store experiences.
Brand such as Taco Bell, Target and DreamWorks Animations's AwesomenessTV are already ahead of the game and conducting market research to understand this new generation of consumers. In their findings, they have discovered key factors that motivate this generation, their interest in implementing new technologies into how they connect with both friends and the brands they like, and lastly, their differentiating values from previous generations.
Gen Z is considered to be practical and value conscious. They are also fond of new technology, such as the new live video streaming app called Periscope, which Taco Bell used to reach this demographic to announce its new product, the Biscuit Taco. Gen Z has more information available to them than any previous generation before them, they use that information to make smart purchases, and they are brand loyal once they've connected with a brand that they relate to.
Lastly, in my own experience in the advertising world, a lot of the new technologies that this generation embraces are drastically different than the ones that I use in my own personal life. I use Facebook and Instagram, but do not use or understand the importance of Snapchat — especially from a brand's perspective of storytelling. Also, a new form of entertainment that is currently gaining a lot of traction, especially as a way to create a unique user experience, and could be a great example as a component piece in an integrated marketing plan, is VR (virtual reality) 360 video. For example, our Samsung team at 72andSunny did a innovative and unique VR brand extension piece that lets the user truly feel like they are a character in the new Avengers film, Age of Ultron.

References:
http://adage.com/article/behind-the-work/marvel-samsung-s-vr-experience-throws-a-mighty-avengers-battle/298330/
Rodriguez, A. (2015, May 15). Stung by Millennial Misses, Brands Retool for Gen Z. Retrieved May 26, 2015, from http://adage.com/article/cmo-strategy/informed-millennial-misses-brands-retool-gen-z/298641/