Back in late March, Jay-Z launched Tidal, a music streaming service. I didn't see the press conference live, but I remember a friend saying "I've never seen so many celebrities on a stage looking so weird." I recalled the hashtag, #TidalforAll on virtually all social media platforms and wanted to know if Tidal was a clothing line or an upcoming concert series.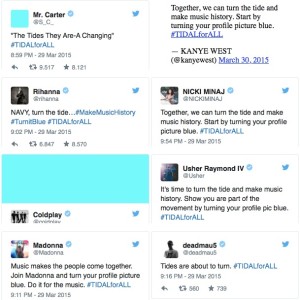 My friend's comments lead me to YouTube, where I watched the launch event and I soon realized my friend was right. The stage was filled with some of the most influential musical artists in popular culture. You might be thinking, who was there? Well, there was Alicia Keys, Arcade Fire (members Win Butler and Régine Chassagne), Beyoncé, Calvin Harris, Chris Martin of Coldplay, members of Daft Punk, Deadmau5, Jack White, Jason Aldean, J. Cole, Jay Z, Kanye West, Madonna, Nicki Minaj, Rihanna, and Usher. All of these celebrities stood on the stage, and smiled for the cameras. After signing a declaration everyone walked off the stage.
I was confused as to why these musical powerhouses where there. After the launch event, I didn't know about the details of the service, I just knew it was about music. I wondered why Jay-Z and his musical friends said nothing about what Tidal is/does, why Tidal is different and why consumers should care about Tidal.
My friend was right after all. What was the point of all these celebrities endorsing this service and appearing at this launch event? Yes, in some capacity they are shareholders of Tidal, but Tidal did not use the celebrity endorsements properly. In fact, Tidal received backlash on Twitter.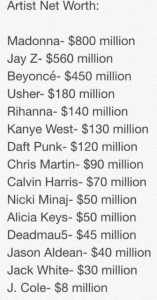 The trending topic #TIDALforALL, quickly turned into #TIDALforNOONE because consumers thought the launch of Tidal was a gimmick to put more money in the pockets of the rich.
Perhaps the Tidal launch would have been more successful without the celebrity powerhouses. While celebrity endorsements can improve brand visibility to the target audience, a strong brand may not necessarily need a celebrity endorsement (Harrington, 2014). For example, Apple recently used celebrity endorsements for the iPhone, but that is not a typical strategy for the company. The Apple brand and the functionality of the products are strong enough where the use of celebrity endorsements is not a high priority for the brand.
What are your thoughts? Are celebrity endorsements the key to a successful marketing campaign?
Reference:
Harrington, K. (2014, January 1). Save Your Money: Celebrity Endorsements Not Worth The Cost. Forbes. Retrieved from http://www.forbes.com.