Do you know the most crowded place around USC campus recently? Surprisingly, many people will tell you the same answer- Popeyes Louisiana Kitchen, which is famous for its fried chicken. Its latest product, chicken sandwiches, were sold out just two weeks after launching and right now the sandwich is back.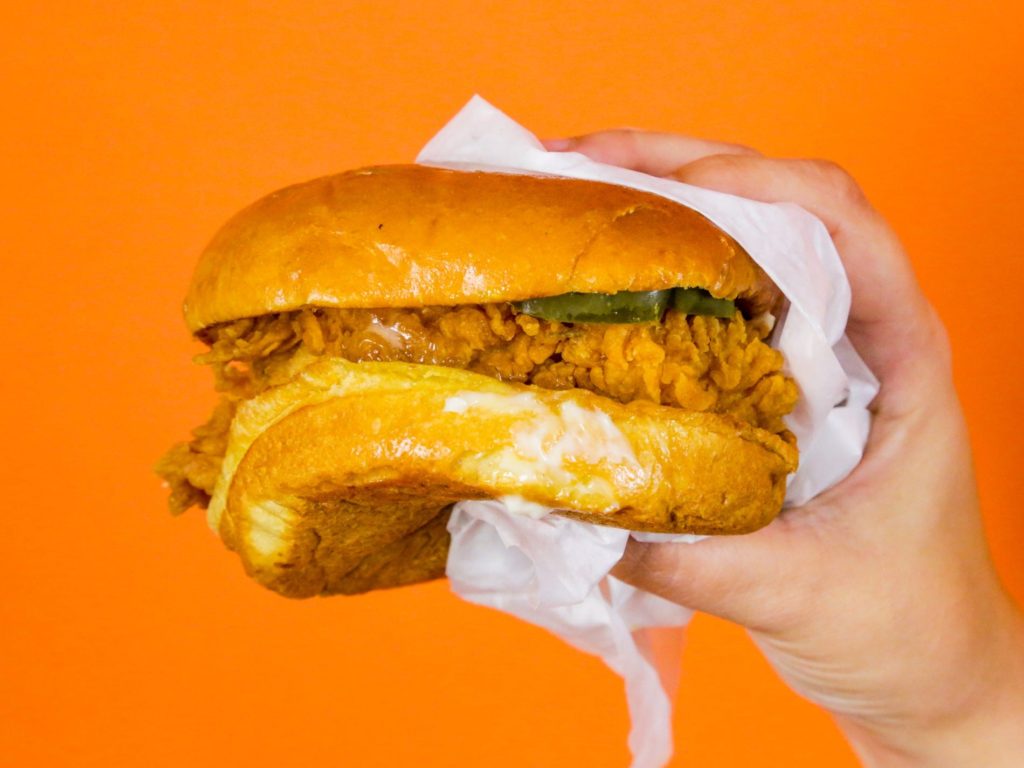 Many people have been wondering why a sandwich can attract so many costumers in such a short period of time. As long as they follow the official Twitter account of Popeyes, they will understand that the use of social media is one of the most important factors that help Popeyes win the battle against other fast food brands such as Chick-fil-A and Wendy's, and maximize the advantage of its marketing plan. It is undeniable that the quality of sandwiches is the foundation of the great success this time. But it's the power of social media that makes Popeyes and its sandwiches become a phenomenon.
As a matter of fact, Popeyes suffered a supply chain issue two weeks after the national launch of chicken sandwiches on Aug 12 and it ran out of sandwich buns. Rather than shying away from the shortage, Popeyes is embracing this problem through social media. Popeyes soon launched its campaign called "bring your own bun". The campaign aimed to encourage consumer to bring their owns bun to make a sandwich with Popeyes' famous chicken tenders. In this fried chicken sandwich DIY movement, a new video jokingly suggests diners buy three chicken tenders and put them on a bun from home.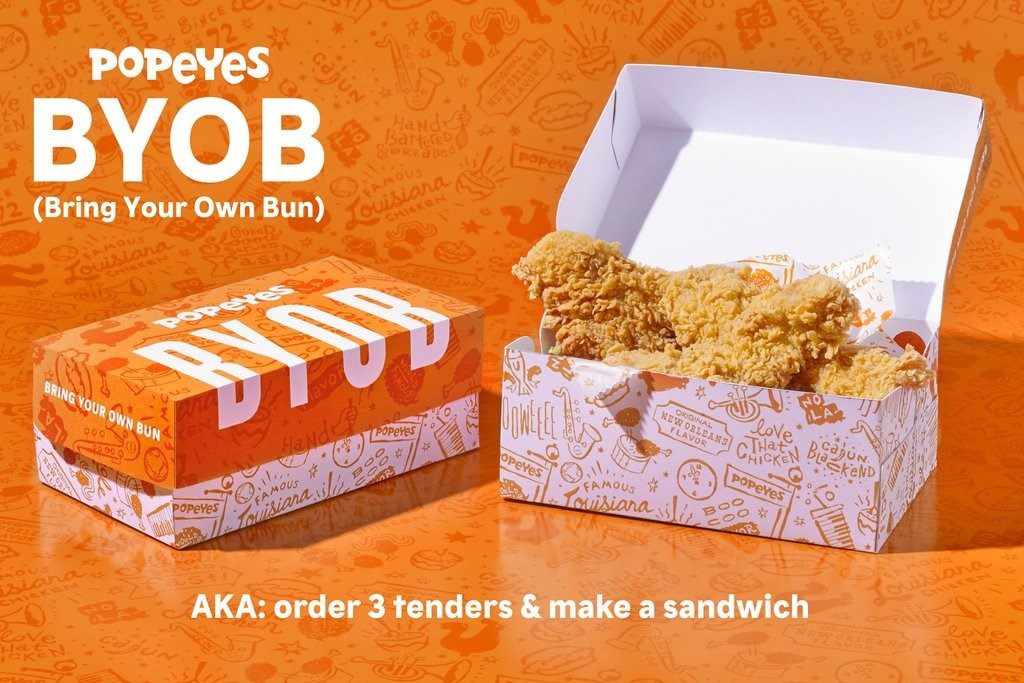 This campaign came after the Popeyes chicken sandwich proved so successful. This twitter had 325,000 likes, 87,700 retweets and 5,200 replies. That's roughly 418,000 engagements for a single tweet. Compare that to the average of the last five tweets Popeyes made: 1,105 engagements per tweet. Meanwhile, at the start of August, 19 percent of Americans said they saw an ad for Popeyes. By September, the number jumped to 28 percent.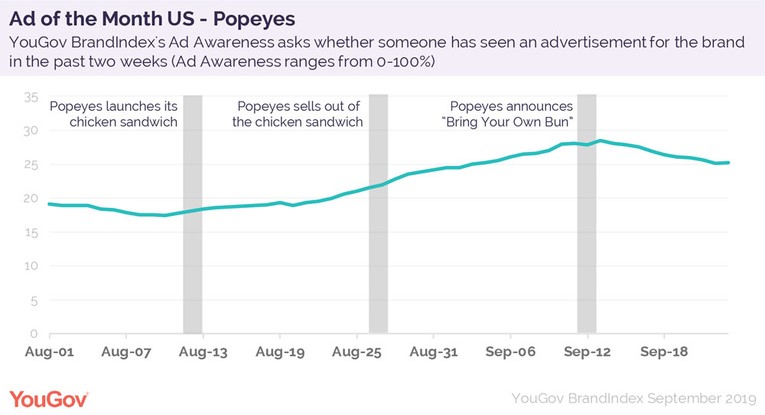 One secret is keeping ad awareness high, which depends a lot on what time campaigns are launched. Thus, the great timing contributed a lot to the success since Popeyes chose to strike when the chicken sandwich iron was hot. It also used the most visible player in the game to generate its own noise. Popeyes catered to the tribe mentality of the Internet in a way few brands before it has, which made it a status symbol. It emphasized the idea that it wasn't enough to just eat the sandwich.
After that, a campaign also set off what was called the "chicken sandwich wars" on Twitter, a viral social media debate that has captivated the internet. Popeyes, Chick-fil-A and other fast-food brands traded barbs on Twitter, arguing about whose sandwich tasted best. As sandwich memes proliferated, customers flocked to Popeyes restaurants across the country. Once the fuse had been lit on Twitter, and the fire started to rage in the mainstream media, actual customers started to take an interest. And, with that interest, came curiosity in trying Popeyes' new chicken sandwich.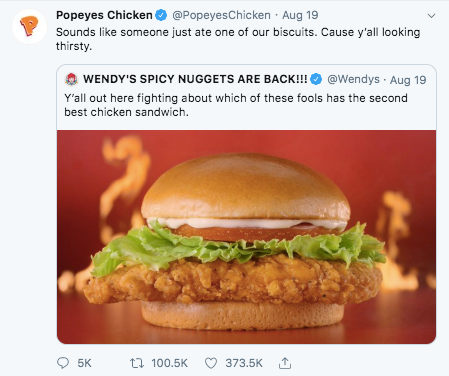 The success of Popeyes sets a perfect model for marketing campaigns in the fast food industry, especially for those brands that want to explode social media. Here are some tips that they can take into consideration. One is that strong video contents with great interaction and storytelling that combines online and offline campaigns will play a more and more important role since the ultimate purpose is to attract your consumers to come to your restaurants. Another recommendation is regularly engaging in conversation with fans. Simple things like including the customer's name and answering specifically make each response feel personalized. Social media can be the perfect tool for these brands to connect with fans.

Resources:
https://www.business2community.com/trends-news/its-time-to-call-the-popeyes-tweet-a-huge-social-media-win-02238068
https://www.businessinsider.com/popeyes-chicken-sandwich-social-media-reactions-2019-11
https://adage.com/article/cmo-strategy/popeyes-offers-playful-solution-its-chicken-sandwich-shortage/2196181
https://www.qsrmagazine.com/fast-food/just-how-big-deal-was-popeyes-chicken-sandwich