Today is the one of busiest days for chocolate stores. Not only did well-known chocolate brands throw tons of money on advertising their products, but also local chocolate stores joined the annual chocolate war by advertising through radio stations and uploading featured videos to YouTube. It's a sweet war.
Observing commercials and videos during Valentine's day, emotions, including love, attraction, romance, and happiness, are attached to all of them. Actually, not only during Valentine's day, chocolate has been associated with love and romance since Hershey connect chocolate with Valentine's day in 1907.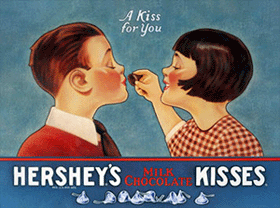 Above is the early years advertisement of Hershey's Kisses. The post simply presented a couple sharing Kisses chocolate. They both were closing eyes and with genius smile on faces.  A loving message was perfectly delivered by the tag: "a kiss for you", which meant a Kisses chocolate and a loving kiss at the same time. It was proved that emotional selling works well for chocolate industry. Love, attraction, and happiness are desired and needed emotion for everyone. Therefore, it is not surprise that most chocolate brands applied emotional branding to connect with their customers. For example, Godiva changed their website to pink color and highlight a heart-sharp gift box with candles (see below pictures).

Hershey is a chocolate company with over 100 years history. Facing strong competitors, such as Godiva and Dove, how could it win the chocolate war when chocolate industry share the same emotional brand theory?
In my opinion, personification is the top secret for Hershey Kisses's success. Hershey started to use Kisses chocolates to represent the loving couple since 80s. Those small size sweets are no long chocolate on couple's hands or in gift boxes. They are dance, singing, or skating together, with love and happiness, like real couples (see screenshots below). Unique chocolate images successful implanted positive emotion, such as romantic, to the brand. Also, Kisses's commercials always associated with happy musics. The concrete sounds and movements transferred intangible emotions to something that audience can feel and remember. In addition, benefit from its unique small size package, sharing Kisses is more easier than other chocolate bar. As we all know, sharing is loving. I believe this concept also contribute to the success of Kisses.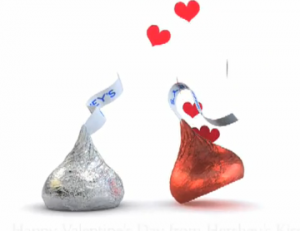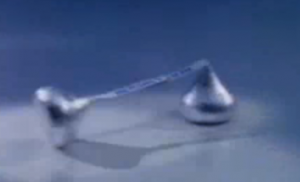 Little sharing: Do you know Why Kisses called "Kisses"?
"While it's not known exactly how KISSES got their name, it is a popular theory that the candy was named for the sound or motion of the chocolate being deposited during the manufacturing process." (Hershey Inc., 2010)