Many people with children probably know about this year's latest trend, fidget spinners. Fidget spinners are toys with two or three blades that are attached to a central core that allows the blades to spin once squeezed (Best, 2017). A picture of a fidget spinner can be found below for those who don't know what it is.
There are over 8,000 fidget spinner retailers on Amazon, which explains why fidget spinners are within the top 20 best selling items on Amazon (Best, 2017; Gonzales, n.d.). Some love fidget spinners while others despise this latest toy trend. There has been a lot of controversy around these toys as adults don't seem to understand why children are so attracted to fidget spinners. There have been arguments that they distract students and hinders their learning as they produce a whizzing sound when they spin while others say that it helps students with special needs focus their attention (Best, 2017).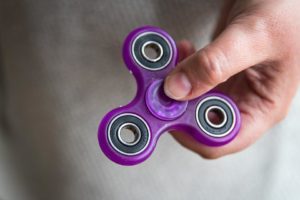 It seems like these toys became the latest fad overnight as I have seen fidget spinners sold wherever I go, even in places that don't specialize in children's toys. For example, I see fidget spinners in office supply stores like Office Depot or grocery stores like Safeway. This might be because fidget spinner retailers are trying to market this product to adults as well as children. Some retailers have been known to market fidget spinners to adults with claims around health benefits of using fidget spinners (i.e. easing stress, PTSD, or anxiety to name a few).
In actuality, the benefits of fidget spinners are still unclear because of the sudden popularity, so there aren't any scientific studies that back up any specific health claims (Lee, 2017). One thing is certain, toy fads are present in every generation, which lead to childhood memories that adults reminisce on later in life. How long fidget spinners will last remains to be unseen, but everyone knows how long last summer's Pokemon Go fad lasted.
References:
Best, J. (2017, May 22). The fidget spinner fad: Adults don't get it, and that's the point. Retrieved from http://www.cnn.com/2017/05/17/health/fidget-spinner-fad-partner/index.html
Gonzalez, G. (n.d.). The inside story behind the rapid rise of the fidget spinner trend. Retrieved from https://www.inc.com/guadalupe-gonzalez/who-created-fidget-spinners-catherine-hettinger-scott-mccoskery.html
Lee, B. (2017, May 19). Here's the science behind the fidget spinner craze. Retrieved from https://www.forbes.com/sites/brucelee/2017/05/19/heres-the-science-behind-the-fidget-spinner-craze/