Target is one of the few retailers that is not afraid of experimenting and thus, has become a pioneer in the social sphere. From encouraging Facebook users to give their friends Target gift cards on their birthdays to providing a consumers with a couponing app called Cartwheel to creating "The Awesome Shop" where Target aggregates the most-pinned items from Target.com both online and in-stores, Target continues to tie e-commerce sales to social media.
Recognizing the fact that more than 700,000 party planning-related items are pinned every day, Target announced they will be partnering with three of Pinterest's top pinners and launching three party planning collections in their stores this year.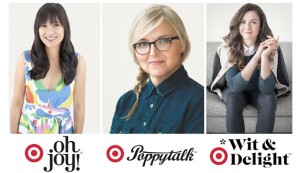 Throughout 2014, Joy Cho of Oh Joy!, Jan Halvarson of Poppytalk and Kate Arends of Wit & Delight will create limited-time-only collections that include party décor, paper products and serving pieces designed in their signature aesthetic. Cho's collection, which recently debuted on March 16, includes bold use of color and pattern in everything from whimsical banners to sparkly party hats.
I think this is a genius way of continuing to resonate with consumers. By paying attention to the type of items consumers are pinning, this also helps the retailer gauge which products will be popular from a merchandising perspective. Target has been extremely successful with designer collaborations in the past, including a deal with the Italian knitwear maker Missoni, which prompted such heavy demand that the retailer's site crashed. I know I was guilty of purchasing a thing or two.
Check out Target's website for a look at Joy's full collection, with products ranging in price from $3 to $25.
Will you be browsing their party planning collaborations this year? Do you think partnering with everyday people will help attract more Pinterest follows and boost sales?
References
Gustasfon, K. (2014, February 13). Targets pinterest tie-in is just the beginning. Retrieved from http://www.cnbc.com/id/101412264
Wagner, K. ( 2014, February 10) . Target pinterest party. Retrieved from http://mashable.com/2014/02/10/target-pinterest-party/