Social networks are no longer a simple communication platform but also as a major source of information. Have you ever wondered why certain information get shared so much and go viral on social networks?
Even though there is no magic rule for a content to go viral, most of the wide spread information share similar characteristics. Stickiness is one of them. Malcolm Gladwell was the original thinker of the concept of stickiness. An idea, concept or product is considered as stickiness when it is remembered, repeated, and acted upon by a large number of people. Chip Heath and Dan Heath expanded the idea of stickiness by introducing the 6-letter "SUCCES" principle. Sticky ideas are simple, unexpected, concrete, credible, emotional and stories.
Viral posts are usually simple but unexpected ideas. People like to share surprising content. Marketo's 2013 survey and the following research in 2015 revealed that people love to forward and share amazing and surprising posts on their Facebook. Those content would initially attract people's attention with a short simple title that concisely introduces the core information to the audience. Huffington Post's most shared article in 2015 is a good example.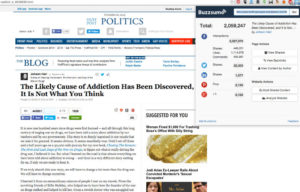 The provocative title indicated that the article was about the possible cause of addiction. Simple enough. But that's not all. It triggered people's appetite by saying that the cause of addition would surprise you. The post was thought provoking and made people eager to share.
People love scientific research, especially the one with surprising results that can blow your mind, just like the Marketo survey. Scientific survey has its natural character of credibility among audience. Besides, being able to be distributed through the Huffington Post, a credible medium with great reputation, helped the post gained more authority. People trust it, so share it.
Stories that are able to emotionally engage people can easily go viral on social networks. In 2013, a message from the Cordell family kids successfully obtained over 1 million likes on Facebook within seven hours. The sign read, "Hi World. We Want a puppy! Our dad said we could get one if we get 1 million Likes! So Like this! He doesn't think we can do it!"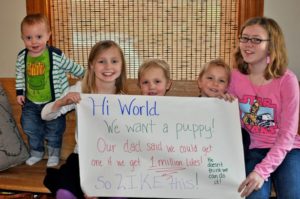 It is not only kids; cats and other pets have become cliché on the Internet. A cute cat dressing in a holiday outfit, a singing Siberian Husky, an adorable baby trying to escape the crib do equally well on social networks.
What's your thought about sticky content on social networks? Have you read, liked, or shared one of those posts during the past year?
Reference
Cernel, S. (April 15, 2016). How to create sticky social media content. Retrieved from http://simplymeasured.com/how-to-create-sticky-social-media-content/#sm.0000dme2qglydcucrrr1hri2xtzr5
Davis, B. (May 20, 2014). What are the best social media marketing campaigns of all time? Retrieved from https://econsultancy.com/blog/64865-what-are-the-best-social-media-marketing-campaigns-of-all-time/
Heath, C., & Heath, D. (2007). Made to stick: Why some ideas survive and others die. New York: Random House.
Rayson, S. (December 2, 2015). How to go viral: Lessons from the most shared content of 2015. Retrieved from http://buzzsumo.com/blog/go-viral-lessons-shared-content-2015/