Have you ever whispered to yourself "what a waste" when you toss out some of the furnitures from IKEA? I am not sure about you, but this resonate with me very much because as an international student, IKEA is on the top of my list when it comes to furniture shopping – it's relatively cheap, one-stop shopping, with great service. Also, I think it's how it brands itself – furnitures that are tasteful but aren't designed to last long. At the end when I need to move to a new place or get back to my country, eventually I have to throw these fully functioning furnitures away. That has been such a waste, until now.
I was browsing on the internet the other day and came across IKEA's newest campaign: The Second-Hand Campaign (click to look at the video introduction). This intrigued my interests, because I have always been wondering why IKEA never realize the value of creating a platform for people to resell their IKEA products. Gladly, they finally took some actions. I went afterwards to do some research. This campaign was launched last week, and the first batch of consumers were 50 Norwegian customers. IKEA retrieved their used furnitures, photographed them and put them in the ads next to the brand new ones. It looks just like this one.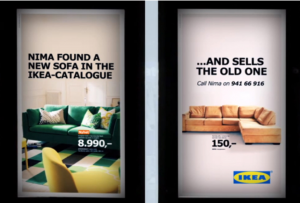 The reason why I found this campaign very brilliant, is how it hits three birds with a stone. First of all, it is such a great way to build its image as a consumer-friendly brand by providing such a platform. Secondly, it adds a layer of entertaining to the new ads, which I believe will contribute to their marketing performance. And it is an integrated campaign, as it encourages people to visit their websites and social media pages. Thirdly, it brings attention to their new products, and audience can actually see what that piece of furniture will look like after an amount of time.
However, while I am complimenting the creativity of the campaign, I also have some concerns. You may notice that on the ad, besides the furniture, the slogan, the logo, the price, there is something else. Do you see the chain of numbers on the ad? That's the used-furniture owner's contact number. According to a report, all the furnitures from these 50 consumers were successfully sold after the ads were posted on websites, magazines and TV, and the phone number on the ads were the major way for communication.
While I was amazed by the consumers' courage to expose their personal contact information, I was thinking if I were one of the consumers, I probably would feel very uncomfortable exposing myself like that. I might be too sensitive here, but still it's a potential disturbance in the future, as it says something about me. Maybe I am too insecure about my information, but I am very curious to see how many people are willing to do that and how does this model work. I don't know if IKEA charges them for advertising on their behalf, or if IKEA subtracts a certain percentage of the amount of the deal if it gets made. What do you think? Will you be comfortable about this, and what do you think of the whole campaign?