We all know that all fast food restaurants have kid's menus, but not all of them have specific commercials and advertisements for children.  Now days less of them, chains like Jack in the Box (www.adage.com. 2011) do not offer toys in the kids menu, but McDonald's still does.  So is McDonald's conducting great marketing strategies or are they being predatory?
In 2010 a nutrition watchdog group threatened to sue McDonald's if they did not stop using toys to lure children to its Happy Meals (money.cnn.com).  The Center for Science in the Public Interest felt that McDonald's has been using unfair and deceptive marketing, they went beyond this to say, "McDonald's is the stranger in the playgroupd handing out candy to children…..It's a creepy and predatory practice that warrants an injunction" (money.cnn.com, 2010).  Well, is it creepy and predatory that McDonald's uses their marketing to attract their young customers?  Is it or is it not a great tactic to market to kids to get them as customers while they are young and keep them as adults?  "Once on board, they would stay for life" (www.foodloversdiary.com).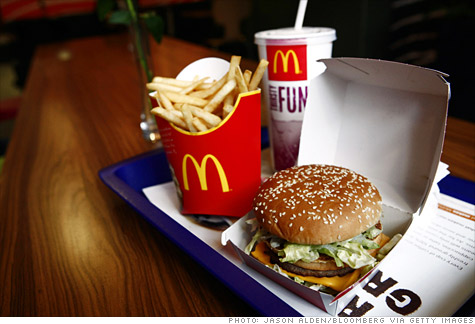 McDonald's spokesman William Whitman disagrees; "We couldn't disagree more with the misrepresentation of our food and marketing practices" (Money.cnn.com, 2010).  McDonald's says they are committed to offering a more responsible approach to its menu by offering more choices that include healthy choices.  But seriously, are the kids interested in the apple slices or the fries? As adults do we go to McDonald's or Jack in the Box for their healthy choices or for the fatty delicious burgers?
So are organizations like the one blaming McDonald's for their predatory behavior right? Are the fast food chains responsible for the effects that fast food have on kids, like diabetes and obesity, does the responsibility really lie on the restaurants who market to kids, or are the parents the ones responsible?  What do you think?  Can nutrition groups have a foundation for their claims, or should they be educating parents on what they should allow their children to eat?
AdvertisingAge.  (2011).  "Jack in the Box eliminates toys from kids' meals".  Retrieved June 19, 2012 from: http://adage.com/article/news/jack-box-eliminates-toys-kids-meals/228334/
Food Lovers Diary.  (2011).  Clever Burger King to target kids more heavily".  Retrieved June 19, 2012 from: http://www.foodloversdiary.com/bad-stuff/clever-burger-king-to-target-kids-more-heavily/
Rooney, B. (2010).  McDonald's warned: Drop the toys or get sued".  Retrieved June 19, 2012 from: http://money.cnn.com/2010/06/22/news/companies/CSPI_sues_McDonalds/index.htm