For companies operating, multiple measurements for success exist. The most preferred bottom line measurement is whether the company made a profit thru the last quarter. One company that has consistently proven that it will create a profit is McDonald's Corporation (staff, 2016).
McDonald's has been excelling at or setting new standards in the business of fast food service over half a century (Hunt, 2013). For some specific reasons of consistency, innovation and affordability, McDonald's has become a worldwide recognized brand (Bailey, 2015). What parts of these characteristics though would having a successful campaign slogan fall under? Certainly not consistency.
Over McDonald's 61 years of existence, it has employed numerous campaign slogans (Hunt, 2013). Regardless of the slogan, McDonald's has been successful. With that being the case, a point could be made that McDonald's current and most successful to date slogan (I'm Lovin' It) should not go away anytime soon. More on why later.
McDonald's currently faces a strong push from trendier and healthier competition (Bailey, 2015). New competitors such as Chipotle and Panera Bread are the latest in new restaurants creating buzz with consumers. Most discerning of all, menu size has negatively impacted the fast food giant from making fast food (Jargon, 2014). Increased menu size is contributed to the desire to compete with specialty food items found at rival competitors.
The operating environment would suggest the need to fortify and consolidate strengths to once again emerge as the undisputed leader in the fast food market (Bailey, 2015). Findings from the Reputation Institute suggest McDonald's would serve itself best and maintain its hold on the consumer majority base by getting behind a core purpose and standing behind it (Balakrishnan, 2015).
McDonald's still reins king in the fast food market. There's still millions and millions that can be indeed counted as lovin' it. McDonald's menu size reduction is just in time to embrace the research findings from the Reputation Institute. There's no need to have your #1 burger (Big Mac) on the menu competing with 15 other burgers. McDonald's must get back to the menu items that brought millions and millions to it over the years. To do so would show McDonald's is aware of the changing environment while demonstrating resiliency in the process. The need then for a new catchy slogan in 3-5 years fades away while millions and millions keep lovin' it!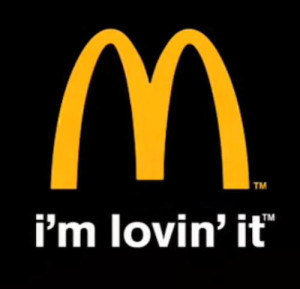 References
Bailey, R. (2015, December 22). How Has McDonald's Been So Successful for So Long? Retrieved from francisedirect.com: http://www.franchisedirect.com/information/markettrendsfactsaboutfranchising/thesuccessofmcdonalds/8/1111/
Balakrishnan, A. (2015, June 14). Report: Americans trust Chipotle, but not McDonald's. Retrieved from usatoday.com: http://www.usatoday.com/story/money/business/2015/06/14/restaurant-chain-reputation-mcdonalds-chipotle/71076802/
Hunt, K. (2013, September 2). Looking back on 58yrs of McDonald's slogans. Retrieved from thrillist.com: https://www.thrillist.com/eat/nation/looking-back-on-58yrs-of-mcdonalds-slogans
Jargon, J. (2014, December 3). McDonald's Menu Problem: It's Supersized. Retrieved from wsj.com: http://www.wsj.com/articles/mcdonalds-menu-problem-its-supersized-1417631056
staff, C. (2016, January 25). McDonald's beats earnings on surging US sales, China demand. Retrieved from cnbc.com: http://www.cnbc.com/2016/01/25/