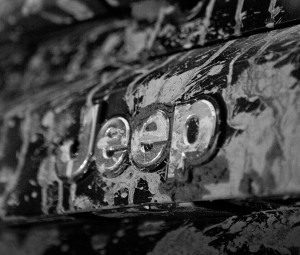 Every now and then you treat yourself to a spa day, so why not do the same for your car? Or at least that's what Jeep and creative agency Parasol Island has dreamed up as part of the car brand's 75th anniversary marketing promotions. Yep, you heard right – a mud mask treatment for your car. It's simultaneously the most ludicrous and genius promotional idea for the brand. Ludicrous because it's literally just a little dirt in a can that you yourself mix with water into mud, and slather onto your Jeep model. Anyone can go into their backyard and make that happen, right? Well not exactly, as Jeep not-so-subtly points out. Hence, the genius behind the Mud Mask promotion.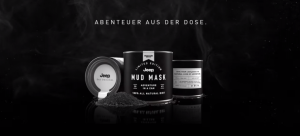 These Mud Mask cans are meant to bring a taste of freedom and adventure to the city-bound Jeep dweller – those who have cement sidewalks or neatly trimmed grass plots as their "nature." The Jeep brand is originally built to handle trails and off-roading. As the brand gets more and more popular among urban drivers, many Jeeps never fully realize their potential beyond downtown streets or suburban driveways.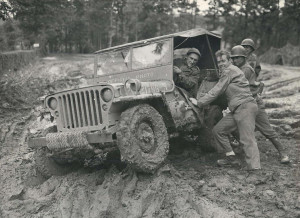 This concept truly taps into the heart of what the Jeep brand is since its inception. It also nicely fills out Jeep's integrated marketing communications by further enabling consumers to vicariously live out the brand lifestyle that they see and admire in visual advertisements. Many people are attracted to buying Jeep because they feel an emotional draw to the brand lifestyle of adventure and ruggedness. Jeep is evocative of a lifestyle that not everyone actually lives out, but they want to be identified with. Because the Mud Mask is enhancing this brand lifestyle, something so silly as a can of dirt suddenly becomes incredibly attractive and desirable to Jeep owners.
To prove my point, when I ran across this story, I shared it with my sister who is a proud Jeep owner in urban Columbus, Ohio. There are plenty of dirt roads a short drive outside the city, but the most dirt her car ever sees isn't even dirt, it's winter snow/salt sludge. For those who don't live in snowy climates, this leaves a nasty white film that seems to take more than one wash to remove. Caked on mud would look so much more attractive! (and a great way to keep the salty film at bay) She immediately asked where she can buy it and was ready to put some money down for that classic Jeep look that she doesn't have time to forge herself. She wants to feel adventurous but doesn't actually fit that lifestyle.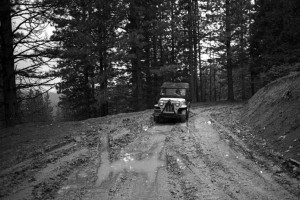 The loyal Jeep owner is happy to spend a chunk of money on a can of dirt because it is premade and packaged by Jeep, therefore it must reliably enhance that brand image, right? Theoretically, yes, but actually Jeep isn't selling these, they're giving them away. And in order to build market demand, they are making a limited number of cans (75 in total – get it? for the 75th anniversary…). To win one of the "exclusive beauty treatments", Jeep lovers enter their information into the Jeep's German website and hope their name is drawn! The brand is fully carried through in the design of the cans as well. 375 ml of 100 percent real dirt is beautifully packaged in an aluminum can with black and white design in an elegant and modern style.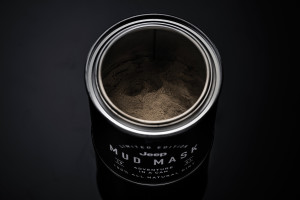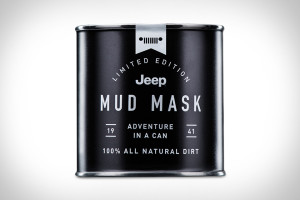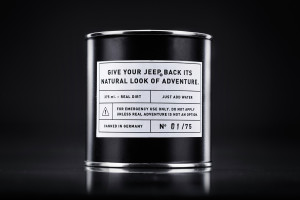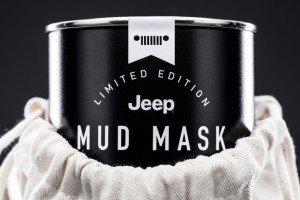 It's "adventure in a can" as Jeep puts it, because it's so much more than dirt. That dirt symbolizes the Jeep lifestyle in a can. It's a promise to escape the pressures of the city and pursue adventures off the path well traveled. External packaging carries across the message that this is exclusive, elite and limited-edition, which only increases the value of each can. Jeep's Mud Mask promotions are topped off with a gorgeous black and white film spot featuring their latest model the renegade, while images encourages viewers to get out in their Jeeps and let themselves free in the great outdoors.
Jeep's promotion is certainly a groundbreaker. There are other competitive, rugged "outdoorsy" brands that could have easily come up with this themselves: Land Rover, Subaru or Chevy Trucks all evoke similar images of their vehicles climbing rocky paths or plowing through puddles of mud. But perhaps outdoor exploration is truly at the heart of the Jeep brand and Jeep lifestyle, whereas these other brands are distracted other aspects like luxury interior, horsepower or hauling capabilities. Jeep certainly jumps at this chance to be the first to bring the rugged lifestyle image to city dwellers and summarizes their integrated marketing mission in a simple statement for the Mud Mask promotion: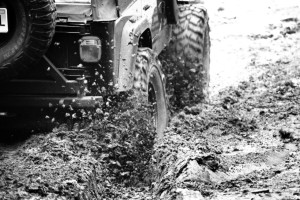 "Just in time for the brand's 75th anniversary, Jeep is celebrating the special thing between Jeep drivers and their cars with the release of the ultimate gift for your Jeep: the Jeep Mud Mask. The first mud mask for SUVs promises to be adventure in a can, the emergency aid for all adventure-deprived City-Jeeps.
The strictly limited, and beautifully crafted Mud Masks contain exactly what a true offroad-adventurer is missing in the city: 100% real dirt, as an expression of the desire to escape the daily grind and search for new adventures far off the beaten track." (Retrieved from thedieline.com, 2016)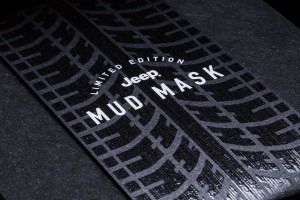 References
Jeep Mud Mask. (2016, February 18). The DieLine. Retrieved from: http://www.thedieline.com/blog/2016/2/16/jeep-mud-mask
Jeep Mud Mask. (No date). Uncrate. Retrieved from: http://uncrate.com/stuff/jeep-mud-mask/
Macleod, D. (2016, February 17). Jeep mud mask. The Inspiration Room. Retrieved from: http://theinspirationroom.com/daily/2016/jeep-mud-mask/
Moran, C. (2016, February 18). Give your Jeep a facial with limited edition Jeep mud mask.
The News Wheel. Retrieved from: https://thenewswheel.com/give-your-jeep-a-facial-with-limited-edition-jeep-mud-mask/
Nudd, T. (2016, February 16). Jeep is making limited-edition mud masks for adventure-deprived city Jeeps: Bringing the off-road to the on-roaders. AdWeek. Retrieved from: http://www.adweek.com/adfreak/jeep-making-limited-edition-mud-masks-adventure-deprived-city-jeeps-169673
Tutu, A. (2016, February 17). Jeep offers limited-edition mud masks for city-driven jeeps missing off-roading. Autoevolution. Retrieved from: http://www.autoevolution.com/news/jeep-offers-limited-edition-mud-masks-for-city-driven-jeeps-missing-offroading-104763.html