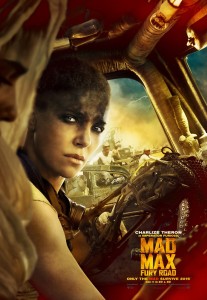 "Fury Road is sure to set the bar high for what can be done with a jolt of estrogen in the testosterone universe of blockbusters" (Howell, 2015)
Mad Max: Fury Road Movie Trailer: https://youtu.be/hEJnMQG9ev8
Last weekend I saw the movie Mad Max: Fury Road and I have to say that it was surprisingly entertaining and thought-provoking. However, not for the typical reasons of special effects, an intricate plot or memorable movie lines – although I was blown away by the movie as a whole.  I was stunned how the women in the film kicked some butt! I'm not sure how many fellow USC classmates have had the opportunity to go to the theater and see this movie yet, but I highly recommend it especially because of the incredible controversy erupting on social media and various news outlets right now on whether or not Mad Max: Fury Road is truly a feminist blockbuster.
Regardless of director George Miller's approach and purpose behind the casting and development of Mad Max: Fury Road, the marketing strategy has been nothing short of brilliant. Charlize Theron shaves her head in this post-apocalyptic film, and dons a prosthetic arm, throughout her portrayal of Imperator Furiosa. The trailer for the film, print ads and billboards have all centered on the image of Theron as a desert warfighter. Even though the movie is entitled "Mad Max," Max becomes more of a background character in this film, pushing the plot along, but contributing very little other than a few timely punches. Furiosa is the overall hero of the film, rescuing the enslaved wives of their colony, and bringing down the colony's evil dictator. She's not a "Wonder Woman," but instead, Furiosa is someone more tangible that female audience members may actually be able to relate to on some level.
Personally, I believe that the success of this film is widely attributed to its release and marketing of feminism during such a critical time of military combat history. Women are preparing to go into more combat roles in the United States military, particularly the U.S. Marine Corps. Marine Corps females, in my opinion, should be motivated by a film like this because of the film's willingness to show women fighting and dying alongside their male counterparts on the battlefield. Very rarely have I witnessed a woman brutally dying in a war scene, like I did in Mad Max: Fury Road. It demonstrated each woman's passion and motivation for putting her own life on the line for a cause that she believed in.
The women portrayed in Mad Max: Fury Road broke away from the chains of patriarchal societies in order to ensure survival and independence.  Their willingness to fight and die proved to be nothing short of extraordinary, and should be a message for all women to stand up to their most intimidating and impossible life trials. Whether or not this film is a feminist revolution is still up for debate, but the discussion surrounding the topic is helping promote the movie in impressive ways throughout the globe.
References
Howell, P. (2015, May 8). Rise of the alpha female: Charlize Theron in Mad Max: Fury Road. The Star. Retrieved on May 30, 2015, from http://www.thestar.com/entertainment/2015/05/08/charlize-theron-in-mad-max-fury-road-embodies-the-new-alpha-female.html
King, T. (2015, May 20). No, Mad Max: Fury Road is not a feminist masterpiece (but that's OK). NewStatesman. Retrieved May 30, 2015, from http://www.newstatesman.com/culture/2015/05/no-mad-max-fury-road-not-feminist-masterpiece-s-ok
Perry, H. (2015, May 13). 'Mad Max: Fury Road' Is the Feminist Action Flick You've Been Waiting For. Vice. Retrieved on May 30, 2015, from http://www.vice.com/read/the-new-mad-max-movie-is-both-badass-and-totally-feminist-944
Rosenberg, A. (2015, May 26). 'Mad Max: Fury Road' and the political limits of action movies. The Washington Post. Retrieved May 30, 2015, from http://www.washingtonpost.com/news/act-four/wp/2015/05/26/mad-max-fury-road-and-the-political-limits-of-action-movies/