I'm currently in Wisconsin spending time with family. I grew up in Wisconsin but have lived in Los Angeles for about 5 years now. It's always a joy to go back during the Fall and see the leaves changing colors and feel the cool air. Just as some background, Wisconsin produces some of the best cheese and meat in the country. Home cooking and great food is part of the culture out here. While driving around town I stumbled across this billboard by McDonald's: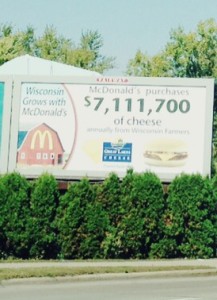 (picture by Amy)
Here is a map of all the McDonald's in Wisconsin.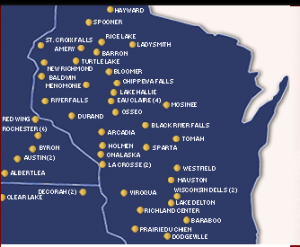 (Picture from https://www.mccourtesy.com/content/home)
This ad really makes me think that McDonald's is doing their part to get healthy food from local farmers. However McDonald's doesn't buy directly from the farmers because they are sourcing for Industrial food processing. This is a big problem because they are leading people to believe that McDonald's food is part of a healthy lifestyle but it really is just the same old bad food. What are your thoughts on this kind of food marketing?