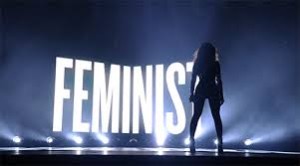 (Source: Google Images)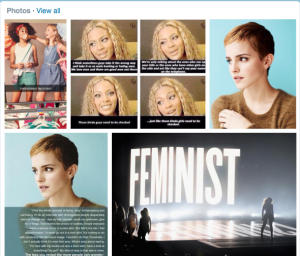 (Source: Twitter)
Celebrities Emma Watson and Beyonce sparked public dialogue, recently, with references to feminism. For example, last month (August), Bey performed at the MTV Video Music Awards with the giant term FEMINIST projected onto the backdrop (see above). This image of Bey on stage literally seems to show her rising above the term "Feminist". There are multiple ways of interpreting this event, but in terms of integrated marketing, it is interesting to see how this stage performance has proliferated through various platforms including social media and the traditional press.
Beyonce and Watson Reinterpret Feminism
In the new feminist discourse, Beyonce and Watson reinvigorate the vocabulary of gender equality in order to reach a multiplicity of audiences. Look at how Watson and Beyonce are pictured in the amalgamated photos that I found on Twitter when I did a search using the terms "Feminist Beyonce" (see above). Watson's gamine-style haircut is in contrast to what appears to be a series of photographs of, what looks like Beyonce, perhaps without makeup. Could this amalgamation of photographs be a commentary against feminist advocacy by these two superstars? If so, then the question for marketers is what impact will such a backlash, if this is a backlash, have on the marketing impact of the Watson's "He for She," campaign and will backlash affect Beyonce's music sales? My thought is that probably, any perceived backlash will be advantageous to the Watson and Beyonce brands. This is because these stars built a following preceding their public affiliation with the term, feminist. Thus, these stars prove one axiom in the Igor International Naming Guide (2005), in order for a brand name to be accepted, it must have depth (14) and by attaching the word "feminist" to their own names, Watson and Beyonce re-infuse feminist with their own brand essence making the word seem heroic and chic at the same time. We are reminded by Watson, at her UN speech, that to be a feminist is to be one who believes in equality, as in equal pay for equal work and respect for women. In fact, we see through adoption by these stars that the term feminist may be reinterpreted and reimagined both audio-visually and performatively.
Emma Watson Introduces the "He for She" Campaign at the United Nations General Assembly
Promoted as "A Solidarity Movement for Gender Equality," the "He for She" campaign asks men to take equal responsibility for the push for gender equality. Emma Watson, an actress known for her portrayal of heroic characters such as wizard Hermione Granger in the "Harry Potter," film series, and Sam in "The Perks of Being a Wallflower," introduced the campaign on Sunday, Sept. 21st, at the United Nations General Assembly, in her role as the United Nations Women Goodwill Ambassador. Watson, a celebrity, and Brown graduate, seeks to "universalize feminism," as my English students said, by inviting men to take up the cause of gender equality. Watson's authoritative, polished, demeanor, seemed in contrast to the popularized notion of feminists as "man haters," and her speech began with an attack on the fixation with the divisiveness of the term. Clearly, this was a speech designed to appeal to youth, in the wake of Beyonce's bold proclamation of feminism (and see here). Also, the "He for She" web page with its black, white, and pink logo, (see below) speaks to the inclusivity of the movement by incorporating the traditionally female color (pink) with the powerful (perhaps, masculine, color) black, against a white backdrop.

(Source: Google Images)
The Lasting Impact? Spoofs or Social Reform, Let the Web Decide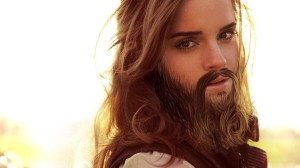 (Source: Google Images)
The above image is featured in a blog post titled "Impossible People: Emma Watson Announces 'He for She' Campaign" on the blog Impossible News. I do not know enough about the totality of Emma Watson's work to know whether this picture is a still from one of her movies, or a spoof on the "He for She" campaign. (If you know the story behind the image, please let me know!). But the blog post itself gives a positive review of Watson 's introduction of the "He for She" campaign.
References
Bennett, J. (August 26, 2014). "How to Reclaim the F-word? Just Call Beyonce. Time.com. (http://time.com/3181644/beyonce-reclaim-feminism-pop-star/).
"He for She Campaign," website (http://www.heforshe.org/).
Igor Naming Guide (2005)
Tessam. (September 23, 2014). "Impossible People: Emma Watson Announces 'He for She' Campaign," Impossible News. (http://news.impossible.com/impossible-people-emma-watson-announces-he-for-she-campaign-to-un/).
"Emma Watson and Why She Rules: Pop Culture Edition." Ladybud.com (http://www.ladybud.com/2014/09/26/emma-watson-and-why-she-rules-pop-culture-edition/).
Henderson, N-M. (September 22, 2014). Washington Post. (http://www.washingtonpost.com/blogs/the-fix/wp/2014/09/22/emma-watson-is-a-feminist-so-is-.beyonce-and-thats-good-for-hillary-clinton/).