As I write this post on my laptop computer, a movie is playing in the background (for the record, it's Good Will Hunting on Netflix). My Blackberry is in my purse but well within reach. My Android phone is on the coffee table in front of me, and a second laptop is just a few feet away from me.
If only I had an actual cable TV subscription, I'd be the spitting image of the demographic eBay is hoping to reach with its interactive shopping app, "Watch with eBay."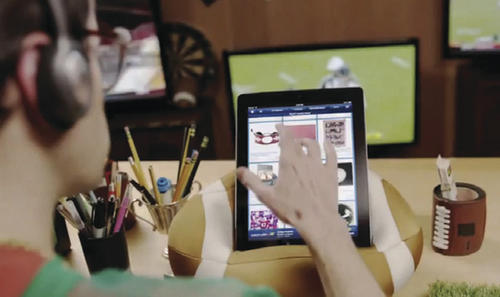 I don't personally know anyone who owns a next-generation interactive TV, and I've never used a television set to buy anything more sophisticated than a pay-per-view flick. But a recent report by WorldPay (2012) asserts that 1 in 5 consumers worldwide own interactive TVs, and about 25% of that number have bought goods or services using their enhanced sets.
What is couch commerce?
Broadly speaking, "couch commerce" refers to any shopping consumers perform at their leisure using mobile devices, and it's a phenomenon that's growing by leaps and bounds. Consider this infographic, which illuminates the rapid increase in mobile payments made between 2010 and 2011 (Monetate, 2011):

More specifically, couch commerce has come to mean the shopping we do on our mobile devices while watching television. This meaning relies on the notion that today's television viewers increasingly use their smartphones and tablets as "second screens" (WorldPay, 2012).  eBay is among the first to capitalize on this phenomenon with its application for iPad and iPhone called Watch with eBay.
How It Works
After downloading the app, consumers are asked to tell eBay what they're watching by indicating their zip code and cable or satellite provider (eBay, 2011). Based on this information, the app delivers the consumer's own program schedule to the device, and the consumer selects the exact program he or she is watching (eBay, 2011).
The consumer's "second screen" thus synchronized, Watch with eBay supplies the consumer with real-time shopping suggestions related to what's on TV. For instance, a consumer who uses the app while viewing a football game will be offered the opportunity to buy team merchandise. During the 2012 Summer Olympic Games, Watch with eBay connected fans with the Nike shoes worn by their favorite runners (Rueter, 2012). Did you find the indie dress Hannah wore in this week's Girls just darling? Maybe Watch with eBay could show you exactly where to buy it.
The Verdict
The experience seems to work best when the app satisfies our curiosity in ways we could not easily achieve ourselves. You may love the leather briefcase carried by your favorite TV detective, but you'd be hard pressed to find it unassisted. When Watch with eBay answers this type of burning question, it connects with users in a meaningful way.
But not all reviewers are thrilled with the Watch with eBay experience. Consumers seem least impressed when the app returns products that are only loosely aligned with the live viewing experience (Wolff, 2011). A fan of How I Met Your Mother doesn't need the assistance of an app to find and buy the Season 1 box set. Virtually anyone who knows how to download an app also knows how to use Amazon.
What's Next?
In a comment on another student's post, I predicted that the future will bring us personalized digital product placements. That is, when advertisers digitally add a box of cereal onto the kitchen table of our favorite sitcom family, the brand of cereal displayed will vary based on what marketers know about us from our search history and other collected data.
Along the same vein, it's easy to imagine a more integrated interactive shopping experience is just around the corner. Retailers are forever looking for ways to "hook" consumers, and couch commerce allows shoppers to indulge their impulse buying habits 24/7 — no barkers or expensive store displays needed (Happach, 2012). I think we'll see applications like Watch with eBay become much more sophisticated over time.
And, of course, there's always the question of what's next. eBay has already rolled out another app to leverage consumers' seemingly boundless fascination with all things Hollywood (can I say that to bunch of jaded Angelenos?). Called "eBay Celebrity," the app encourages consumers to follow in the footsteps of their favorite stars. Katy Perry says she likes to search eBay for Jonathan Taylor Thomas memorabilia — why shouldn't you?
References
eBay. (2011). Watch with eBay: How it works. Retrieved from http://mobile.ebay.com
Happach, S. (2012, July 2). Internet and interactive TV — the retail revolution. The Guardian. Retrieved from http://www.guardian.co.uk
Monetate. (2012, June 29). Couch commerce: How tablet shoppers are changing online sales. Retrieved from: http://www.monetate.com
Rueter, T. (2012, July 27. eBay goes for Olympic gold. Internet Retailer. Retrieved from http://www.internetretailer.com
Wolff, M. (2011, December 12). Watch with eBay, or don't. Techcitement. Retrieved from http://www.techcitement.com
WorldPay. (2012). Are you giving your customers what they really, really want? Retrieved from http://www.worldpay.com