As I'm getting addicted to the green tea lemonade at Starbucks these days, I'm quite shocked when I came across this on the Huffington Post a couple days ago. Instead of writing the customer's name, an employee at a Starbucks branch in Paris drew a little caricature on the cup. Here is the picture that the customer's friend has posted online.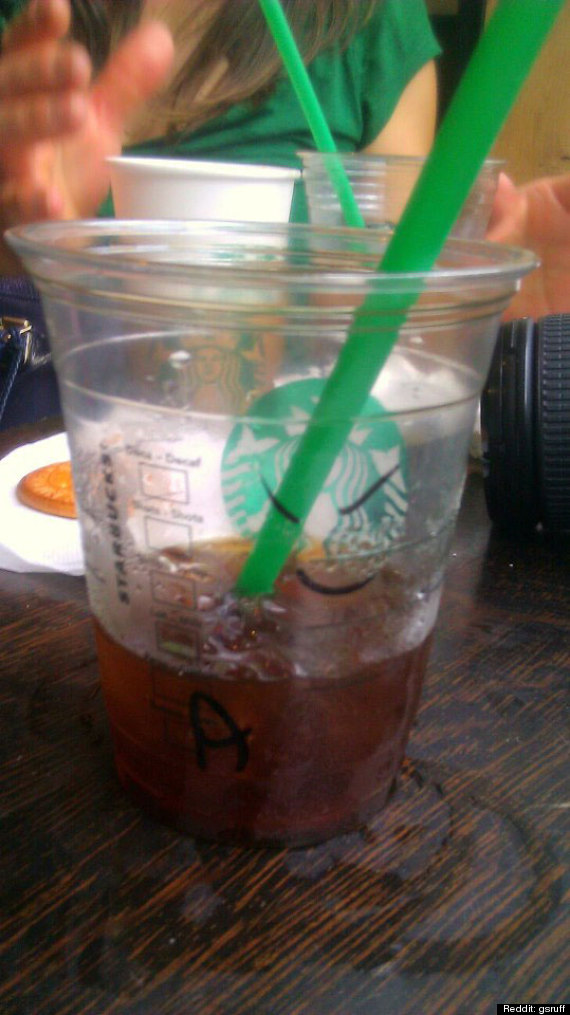 You may guess the ethnicity of the customer right now. Yes! The customer is Asian, and to be more specific, Korean-American. It's offensive. And it definitely hurts the brand image. As a matter of fact, this is not the first time. Something similar has happened here in the States as well. It was back in February this year in Alpharetta, Georgia. But that time it was two little drawings on both cups for two Korean customers.
Here's what Starbucks responded back then:
Starbucks does not tolerate discrimination of any kind and has a lengthy history of leading on and supporting policies that promote equality, inclusion and diversity. We were disappointed to hear of the poor experience this customer had in our store and have apologized to him several times. This experience is unacceptable and not indicative of the welcoming and respectful service we strive to offer our customers in our stores. The partner (employee) who was involved in this incident is no longer employed by Starbucks.
It's been one week and Starbucks has not commented on the Paris incident yet.
Though not Korean myself, I have to say that I'm disappointed as an Asian. Personally I've always liked it at Starbucks. Basically it means very nice people making decent drinks for me in a relaxing environment. The Starbucks staffs in Shanghai are far more nice and friendly compared to other local beverage chains or restaurants, which might explain why it has gained a huge success there. You'll probably encounter at least three green mermaids if you take a 15-minute walk in a busy commercial street in Shanghai. And you know you'll be welcomed and greeted by smiling faces, just like when you walk into Disneyland. Having your staffs well trained is an important part of branding. Maybe Starbucks Paris should work to score higher in that perspective.
I wonder if that Korean customer would ever get drinks from Starbucks again. And I'm not sure how I would react if I were the victim. Although it has caused quite a stir in the online community, not much is going to change. Will it stop Asians from visiting Starbucks? Probably not. However, one should always keep in mind that in this age of instant communication, anything could be mediated in the blink of an eye. The reason why Starbucks hasn't yet responded is beyond my comprehension. Maybe this doesn't count as crisis management but the company should promptly react. You can no longer keep it low profile if it's already in the buzz. And if branding is about emotional connection with customers, you should at least show some sympathy. Perhaps for Starbucks Paris, sorry seems to be the hardest word.