Who said chatting was dead? The 90's brought the rise of instant messaging (IM). AOL, MSN, Yahoo, and Skype were the leaders in IM. As social platforms gained popularity such as Myspace and Facebook the decline in IM usage dropped.  Fast forward to 2016 and IM has made a huge comeback, with IM apps surpassing the amount of active users of social networks (BI Intelligence, 2016).
The most popular IM platforms are WhatsApp, Facebook Messenger, and WeChat.  Even Instagram added chatting features to its platform.  Snapchat has also become extremely popular worldwide for the 18-24 age group (Schafer, 2016).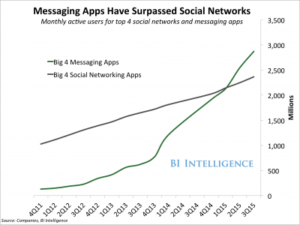 (Johnson, 2016)
But can chat be the next big thing in advertising?  Some marketers seem to think so and here is why you should too!
Year of the Bot. – Beered Sheth, CEO of Gupshup predicts a chat bot explosion is about to be unleashed starting with Facebook (Swant, 2016).  Chatbots will increase brand interaction among consumers.  Chatbots can hail a cab for you or pay your bills all through private IMs.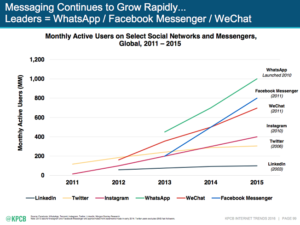 Custom Customer Service.  Sephora is a first adopter in this arena (

Honigman, 2016).  Want to know reviews on the new Urban Decay palette just text Sephora and their chat bots will share reviews with you.  Need an idea for holiday makeup and Sephora's chatbot will share great holiday looks and links to videos for you to watch and learn.  Brands can leverage their marketing and advertising content in a way that is much more organic and the consumer has total control.
It is Measurable. As marketers, we have first-hand access understanding consumer behavior.  Using private IM to interact with our consumers allows us to gain insight of an untapped source of consumer data.  Brands can craft communications to be more "immediate, expressive, and intimate" and move away from being content-oriented to person-oriented (Schafer, 2016).  
If used correctly the IM can very well be the best thing to happen to marketers, because after all consumers want personalization, authenticity, and real experiences.
"To me the phone is this seldom used app on my phone" – Gary Gulman, Comedian
---
Swant, M. (2016). Why brands from barbie to uber are so hot on chatbots. Are automated messaging platforms the new customer service rep. Ad Week. Retrieved from http://www.adweek.com/news/technology/why-brands-barbie-uber-are-so-hot-chatbots-170577
Johnson, L. (2016). 7 big trends that are shaping the future of digital advertising. Ad WEEK. Retrieved http://www.adweek.com/news/technology/7-big-trends-are-shaping-future-digital-advertising-171773
Honigaman, B. (2016). The future is here: messaging apps are about to revolutionize marketing. Retrieved from http://www.brianhonigman.com/future-of-chat-apps/
Schafer, M. W. (2016). What marketers need to know about chat apps. Harvard Business Review. Retrieved from https://hbr.org/2016/06/what-marketers-need-to-know-about-chat-apps