Credit: http://collider.com/dark-knight-rises-images-batman/168928/
I, like millions of other people across America, was absolutely shocked when I woke up this morning to email news alerts about the shooting in Colorado at a midnight showing of one of the summer's most anticipated flicks: The Dark Night Rises. This horrific act makes me wonder how things can go so horribly wrong for an individual that mass murder seems like a realistic option. I feel so sorry for the families of the tragic event's victims and the survivors who are no doubt traumatized. But I didn't give any thought to the marketing of the Batman movie, and how this horrific turn of events would impact that. But, it appears that Warner Bros. and the Batman movie have a huge mess to clean up. This shooting will have unknown implications to the movie's success, the Warner Bros. company and the countless number of brands and sponsors that were being highlighted in the movie's promotions (Poggi, 2012). Warner Bros. has, in a matter of hours, cancelled the Paris red carpet and countless interviews with the director and cast (Poggi, 2012.) Speculation is running wild about the possibility of copycat crimes and the safety of movie goers, especially in large cities like New York (Poggi, 2012). Warner Bros. has already contacted networks like ESPN and ABC, asking them to take down some of the movie's ads in light of the tragedy (Steinberg, 2012). Without opening weekend advertising, how can the movie be expected to fair?
The movie was already being hailed as very dark and violent but had only been given a PG-13 rating (Powell, 2012). Analysts say that the movie has enjoyed an extensive marketing and media campaign up until now that will undoubtedly help mitigate the negative impacts of this morning's events (Powell, 2012). But as the line becomes blurrier between PG-13 and R ratings, it has many wondering if extreme violence in movies has led to a desensitization to violence, which has spurred many public displays of violence (Powell, 2012). The Dark Night Rises may now be unwillingly forced into the spotlight as the poster child for why movies are becoming too violent. For a movie that was positioned, marketing wise, to top even the staggering numbers of the recent Avenger's premiere, it's a classic case of bad timing (Ryan, 2012).
Images like these, from the movie, won't help, as this looks shockingly similar to the gas mask worn by the shooter: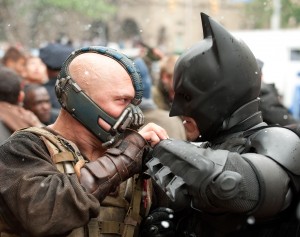 Credit: http://collider.com/dark-knight-rises-images-batman/168928/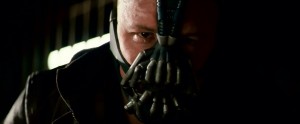 Credit: http://collider.com/dark-knight-rises-images-batman/168928/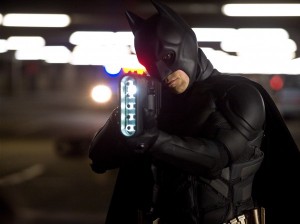 Credit: http://collider.com/dark-knight-rises-images-batman/168928/
Warner Bros. reaction to the tragedy has been honorable, from a marketing and PR standpoint. They have pulled all ads showcasing the violent portions of the movie, have cancelled appearances, issued a statement of sympathy and have failed to promote the film's midnight showings success, said to be upwards of $30 million and the second-largest on record, which would have been a normal practice of the movie promotion business, had this never happened (Niiler, 2012). Industry experts site other examples of bad movie marketing timing, from Heath Ledger's death prior to the Dark Night's initial release in 2008 to FOX's recent name change of a summer series from Neighborhood Watch to the The Watch after Trayvon Martin was killed earlier this year (Poggi, 2012). But is the movie and its marketing efforts forever tainted with the memory of today's events? For now, the biggest questions on everyone's minds are what drove the shooter to commit this tragedy and if Warner Bros. will be forced to pull the film for the foreseeable future (Ryan, 2012). No film has ever been pulled from production but industry experts also say that this is such an unprecedented situation that anything remains possible (Ryan, 2012).
Niiler, E. (2012). Is Dark Night violence factor in shooting? Discovery News. Retrieved from http://news.discovery.com
Poggi, J. (2012). In light of 'Dark Knight' tragedy, movie marketers face questions. Ad Age. Retrieved from http://www.adage.com
Powell, K. (2012). Batman, Colorado, Guns, Terrorism. Huffington Post. Retrieved from http://www.huffingtonpost.com
Ryan, J. (2012). Dark Knight Rises: Warners has no plans to pull film following Colorado tragedy, but future cloudy. E News. Retrieved from http://eonline.com
Steinberg, B. (2012). Time Warner pulls some 'Dark Knight' TV ads. Ad Age. Retrieved from http://www.adage.com