Scrolling through Facebook we see constantly see baby photos, memes, and inspirational or cautious stories that are shared several thousand or million times. Who are these people in these stories and is it true? Facebook is taking a stand against fake news in the United States and recently their efforts have expanded internationally, specifically to Germany. The country is coming upon an election and Facebook does not want fake news taking over their election as it did to the United States.
Yet is it effective? Why is Facebook stepping up with a greater force when there is an election? Anas Modamani, a Syrian refugee, who lives in Germany feels Facebook has failed in clearing fake news especially his name and false story. Modamani took an innocent photo with Chancellor Angela Merkel that is being shared that the Chancellor took a photo with a wanted terrorist linked to the attacks in Berlin. His photo has circulated with the label as an attacker with each bomb scare that happens in Germany. Modamani has requested the photo to be taken down by Facebook, but unfortunately the content was shared massively and growing in shares.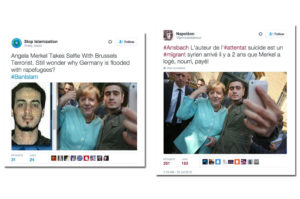 Modamani has filed for an injunction for Facebook to remove all content that link him to terrorism. Failure to remove all context will result in a fine of 250,000 Euros each time a fake news story about Modamani appears. These constant stories being created and shared repeatedly on Facebook have made Modamani not able to live without explaining he is not a terrorist and in constant danger. The platform is created to post things and share things with ease, but removing a fake story takes months if not longer.
Facebook says measures of exposing and removing fake news are happening and an active goal but it seems Facebook is doing this for specific stories only. Fake election stories in Germany have been stopped quicker than Modamani's. The fact checker created by Correctiv should be checking all stories and not specific key subjects. Hate speech is not being stopped by Facebook's new system or in a timely manner to protect the innocent.
Can we believe anything that is on the news or social media anymore? Should there be punishment for those who created false stories that are destroying a reputation of an innocent being? Is it really Facebook's job to check the facts or should we, as a society, come together and check the facts before sharing a post? Media evolving quickly and news travels fast. Next time before you share, check yourself. You don't want to be adding to the fuel to the fake news fire.
Modamani's hearing is scheduled for February.
References 
Guerrini, Federico. (2017, January 16, 2017). Facebook Will Flag And Filter Fake News In Germany. Forbes. Retrieved from http://www.forbes.com/sites/federicoguerrini/2017/01/16/facebook-will-flag-and-filter-fake-news-in-germany/#447f7ccf60e3
Silverman, Craig. (2017, January 15). Facebook Is Expanding Its Program To Fight Fake News Into Germany. BuzzFeed. Retrieved from https://www.buzzfeed.com/craigsilverman/facebook-expanding-program-to-fight-fake-news-to-germany?utm_term=.sfywwRazD#.taaAAvkVe
Silverman, Craig. (2017, January 13). A Refugee Is Taking Facebook To Court In Germany Over Fake News. BuzzFeed. Retrieved from https://www.buzzfeed.com/craigsilverman/refugee-taking-facebook-to-court-in-germany-over-fake-news?utm_term=.dn411ParJ#.jfayyAZVq