Summer is here and the temperature is steady rising. Most women are contemplating many things especially how to wear their hair. Yesterday as I surfed the internet (mainly Facebook) I noticed a lot of people were posting their before and after hairstyle pictures.
I could not help to wonder what I was going to do to my hair for the summer! A weave?! Yes a weave. I had no clue that the black haircare industry is a $500 billion industry (Opiah, 2014). Nearly six out of 10 Black consumers wear a wig, weave or extensions (Opiah, 2014). So what are the pros and cons of wearing a weave?
Advantages
1. Experimentation & Versatility
Wearing a weave can allow you an opportunity to try a variety of styles, colors and lengths to your hair without using your own natural hair. This experimental benefit also works for natural-haired women who want a straight look without applying heat or relaxers (Sandeen, 2015). A weave can be worn (with the proper care) as long as you want to. The decision is up to you! No more green hair when your hair color goes bad or wrong. Become a blond or red hair in a matter of minutes. Women who want to experiment or add versatility to their hair can explore the different types of hair weaves (London, 2015). Whether you wear one for a special night out, or you wear one for an extended vacation, hair weaves are just another tool women can use to try different looks (London, 2015).
2. Self- Esteem Booster
Weaves can help people who suffering from baldness (e.g. alopecia areata totalis) cover up their baldness (Hairfear, n.d.). Baldness can lower a person's self-esteem and cause depression. A weave can help some with balding issues to maintain a normal lifestyle and appearance.
Disadvantages
1. Skin & Hair Problems
Weaves require consistent maintenance to help prevent tangling problems. Too much tension on new growth increases your chances of traction alopecia (Quann, 2015).  Professional stylists suggest no more then 6-12 weeks Quann, 2015). Sometimes germs and bacteria may collect among the weaves (Hairfear, n.d.). Therefore skin/scalp problems can occur. The woven hair is more brittle as it does not get nutrient supply from the scalp making it dry (Hairfear, n.d.).
2. Budget
The initial investment or constant upkeep for a weave can be costly. If you are thinking about a weave calculate the figures for a year and see if it is an investment you are able to afford (Quann, 2015). Based on some of the hair salons I visited a weave can range from $300 to $1000 depending the hair texture, length and type of weave. In Detroit, Michigan you can obtain a weave loan. Who needs a car loan when you can get a weave loan!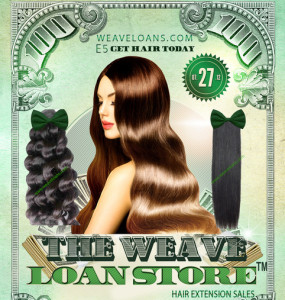 A few factors to consider when making a decision when it comes to getting a weave.  Happy Summer!
References:
Sandeen, D. (2015). The benefits of wearing hair weaves. Retrieved from http://blackhair.about.com/od/colorenhancements/tp/hairweavebenefits.htm
London, Z. (2015).The advantages of hair weaves. Retrieved from http://www.ehow.com/about_5395095_advantages-hair-weaves.html
Hairfear. (n.d.). Advantages and Disadvantages of Hair Weaving. Retrieved from http://www.hairfear.com/hair-loss-products/1100-advantages-and-disadvantages-of-hair-weaving.htm
Quann, C. (2015). Pros, cons & successful tips when wearing weaves while natural. Retrieved from http://urbanbushbabes.com/pros-cons-successful-tips-when-wearing-weaves-while-natural/
Opiah, A. (2014). The changing business of black hair, a potentially $500b industry. Retrieved from http://www.huffingtonpost.com/antonia-opiah/the-changing-business-of-_b_4650819.html