Football, and the National Football League (NFL) especially of this past year have been under attack. The heighten awareness of concussions, domestic violence, child abuse, and other unlawful acts by players have been at the forefront of sports news yet the NFL seems to be having no problem once so ever making money. The NFL consists of 32 franchises with an average team valuation of $1.43 billion and is the only league in the world to have a team valuation average over $1 billion (Winfree, 2011). Next year alone, NFL revenue is projected to be at $12 billion, about $1 billion more than this year's revenue (Kaplan, 2015) and with all the heighten scrutiny of head injuries and character issues there still seems to be no sign of monetary success slowing down. In fact the NFL has become such a big platform that they have even attempted to charge half time performers at the Super Bowl to perform because the exposure is so great.
A big part of their monetary success can be contributed to marketing. The NFL has become such a dominant platform for brands that marketers don't care about the scrutiny of the league. The question for them is how to deal with the task of making a strong statement against wrong doings of the NFL such as domestic violence and child abuse while not jeopardizing deals in place with the league. The NFL is too reliable a platform that reaches an array of demographic audiences to lose as a partner for almost any brand or company. The NFL dominates TV ratings with over 120 million viewers every Sunday (Pharr, & Lough, 2012) and packs new multimillion-dollar stadiums every week with an average yearly stadium attendance of 516,238 spectators at home games, the highest of any professional sports league in the past 5 years (Quinn, 2012). With this type of audience its no wonder marketers face this dilemma.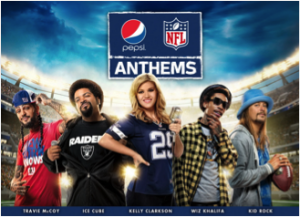 The attraction for marketers is so great because the NFL is seen as a fully integrated marketing channel during the fall. The idea is that any type of association with the league means exposure to a wide audience, not just through broadcasting but a variety of platforms. The league has become so social, which is the main reason to accredit its wide fan base. The NFL will strive to continue market expansion through social tactics that will benefit advertisers to hone in on various fans that can be capitalized for monetary profit. The NFL recognizes this, marketing and advertising execs recognize this, thus business endeavors and continued brand partnerships will continue grow for the NFL and other companies, organizations & brands (Hirt, & Clarkson, 2011).
References:
Germano, S., Vranica, S., & Clack, K. (2014, September 17). NFL Sponsors Speak Out—but Keep on Advertising. Retrieved from: http://www.wsj.com/articles/nfl-sponsors-speak-outbut-keep-on-advertising-1410997534
Hirt, E. R., & Clarkson, J. J. (2011). The psychology of fandom: Understanding the etiology, motives, and implications of fanship. Consumer behavior knowledge for effective sports and event marketing, 59-85.
Kaplan, D. (2015). Sports Business Daily. Retrieved from (http://www.sportsbusinessdaily.com/Journal/Issues/2015/03/09/Leagues-and-Governing-Bodies/NFL-revenue.aspx)
Pharr, J. R., & Lough, N. L. (2012). Differentiation of social marketing and cause-related marketing in US professional sport. Sport Marketing Quarterly, 21(2), 91
Schiff, M. (2014, August 20). The NFL reportedly wants to charge artists to play the Super Bowl halftime show. Retrieved from http://www.axs.com/news/the-nfl-reportedly-wants-to-charge-artists-to-play-the-super-bowl-half-17219