I am preparing for a Digital Marketing Summit in November. In reviewing the agency material, I came across an interesting YouTube video, Top 5 Future Technology Inventions: 2019 – 2050, that is relevant for today's organizations tomorrow. This video showcases the top five inventions anticipated to be in market as soon as 2019 and as late as 2050:
Getting to know future drivers of results – Annually Gartner releases a "Cool Vendors" report across many sectors including the marketing technology space. Innovation in marketing is rising with dramatic impact on budgets. The 2015-2016 Gartner report indicated 71% of marketing executives dedicated a portion of their budget to innovation (up 64% from the previous year). The critical take away is deciding what's cool and what innovations need to be on your radar screen right now.
Often us Communication Professionals and others within the organization are so focused on the "here and now" communication tactics that we never get a chance to PAUSE to see what's right around the corner. Emerging technologies, the Internet of Things (IoT) and other trends such as wearable technologies, will change how organizations think and how consumers make product and service decisions. According to the Economist, the good news is new technological advancements and the introduction of gadgets create new markets and new employment opportunities.
If you are interested in next generation inventions, subscribe to Generation Challenge.
Gartner's 2016 Marketing Cool Vendor Visual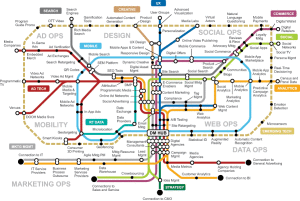 References
Cool MarTech Vendors for 2016 – Gartner Blog Network. (n.d.). Retrieved from http://blogs.gartner.com/kirsten-newbold-knipp/2016/05/11/whats-cool-in-marketing-technology-in-2016/
The onrushing wave | The Economist. (n.d.). Retrieved from http://www.economist.com/news/briefing/21594264-previous-technological-innovation-has-always-delivered-more-long-run-employment-not-less
Top 5 Future Technology Inventions | 2019 – 2050 – YouTube. (n.d.). Retrieved October 23, 2016, from http://www.youtube.com/watch?v=vbNHCn2gHQ4