Sports and brands have joined forces for many years, but on this Father's Day they have upheld an American culture that many men are familiar with. If you're a fan of golf, consider yourself a part of this vast population who spent the afternoon cheering on talented golf competitors as they went head to head during the United States Golf Association (USGA) US Open held in Chambers Bay, Washington. The sport of golf is, as many would consider an acquired taste. However, those who have gained interest in the sport are likely to have also developed a liking to a variety of brands that drive the financial support for championship games such as the US Open, PGA or The Master's tournament. As I sat here today supporting my father-in-law by spending the afternoon watching the USGA Open Finals together, I realized that the exposure I was receiving was not limited to the sport itself or his passion for golf, but rather to the many brand names that support the organization. Brands like Fox Sports, Callaway and Taylormade are only a few that viewers may immediately associate with the sport. Other brand names like American Express, Under Armour, Workday, UPS, Vonage and Adidas also surfaced during the US Open.
What I learned about today's tournament that made it a unique opportunity for big brands is that this is the first time the US Open has been held in the Pacific-Northwest. Viewership was expected to be larger than previous years due to the new location. In order to expand viewership and digital presence, IBM assisted the USGA to enhance their infrastructure several years back (Joe, 2013) which makes the brand a critical player during golf tournaments. Chemi (2015) explained that investors will be keeping a close watch this year on the consumer brands that advertise during and sponsors the Open. There is a shared belief amongst traders that investors will take action by buying, selling or holding onto their stock shares after seeing the exposure of each brand to a large television audience (Chemi, 2015). Brands like IBM, Southern Company and Coca-Cola (Chemi, 2015) are three top stocks that are on investors' radars. But there is more to be said about the brands that are exposed during large sporting events such as the US Open. Consider the viewers, fans and amateur golfers sitting around their LG or Samsung television sets watching their favorite competitors like Dustin Johnson, Jason Day, or 2015 champion, Jordan Spieth wearing golf gear from top sponsors. Be it hats, shirts or sunglasses, a subconscious brand loyalty is created.
Taking that into account, integrated marketing communications go beyond the simple message being delivered to a target audience. There is a high level of consciousness put on when and where exposure is given to the consumer. Just because a brand is closely linked with the sporting event does not make it the best candidate as a sponsor or for a commercial spot during the event. Take for example, Workday. A ten year old startup who has successfully paved its way as a leader in the cloud software systems HR and Financial industry. The B2B sales company has nothing to do with golf. However, the marketing and communication team saw a prime opportunity to pay for air time during the US Open. A lesson learned from the USGA is that knowing your audience and what they want is key to success (Joe, 2013). Workday analyzed the golf viewership and realized that as an acquired taste, the sport is closely followed by businessmen and investors and valuable brands. Brand placement in a sports event like the US Open was a clever strategy that will give exposure to the right people looking to grow their businesses.
An additional consideration to be taken when observing the connection between brands and sports is between Jordan Spieth and Under Armour. Prior to Spieth's entrance into the golf community, Under Armour was a brand known to football fans and male consumers shopping for underwear. During last year's 2014 Master's Tournament, Spieth was the new, hot player who received a ton of publicity and as he interviewed, he walked around representing Under Armour by wearing their hat. Speaking to my father-in-law today, I learned that prior to watching Spieth, he has no idea what the logo on the hat was. After watching the young, new comer, he did some research and went to an Under Armour store. As he walked in, he noticed a large photograph of Spieth on the wall in the Under Armour store. As a fan, my father-in-law behaved as a brand loyal consumer would. He purchase golfing shirts, polos and hats that he could wear while playing on the course with his golf buddies.
On this Father's Day weekend, a champion athlete proudly wore Under Armour branded apparel in front of large audiences. Now the real question… who sponsors who? Is Under Armour the sponsor for athletes like Jordan Spieth or visa versa? According to Riche (2015), "Spieth's continual presence during the most watched tournaments and rounds of championship golf obviously create additional exposure for the Under Armour brand" (para. 6). Without the athlete, the brand would have to use other communication channels and means of advertising to get their brand name and brand awareness out to the large consumer markets. By making connections with the different sport communities, big brands, just like Under Armour, have found a way to garner massive benefits, increase the chances for brand loyalty and, ultimately grow profitability simply by sponsoring athletes through their talented careers.
So the next time you attend a sporting event or watch your favorite team and players perform, be sure to pay extra attention to the brands that represent them. Think about it? Are those brands a part of your lifestyle? Are you influenced by your consumer shopping based on the sports you watch, play or follow? Let's not limit our brand recognition to just the clothes and shoes on the course, field or court. Instead, remember all the brands that take part in bringing the sporting event to life. Your television sets, the television station airing the event and all the other brands that paid for airtime which produced financial support for the event to take place. They all make up a relationship between brands and sports which, in turn, set a solid foundation for consumer brand loyalty.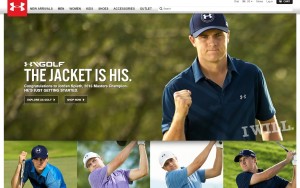 References
Chemi, E. (2015, June 18). These stocks have a 'golf bounce' at the US Open. CNBC. Retrieved from www.cnbc.com
Joe, R. (2013, May 13). Three digital lessons from the US Open. Direct Marketing News. Retrieved from http://www.dmnews.com/direct-line-blog/three-digital-lessons-from-the-usga/article/293077/
Riche, P. (2015, June 22). Saving, earning millions thanks to Jordan: Under Armour's prudent Jordan Spieth investment. Forbes. Retrieved from http://www.forbes.com/sites/prishe/2015/06/22/saving-earning-millions-thanks-to-jordan-under-armours-prudent-jordan-spieth-investment/