Every month this catalog hits my desk and immediately goes into the recycle bin.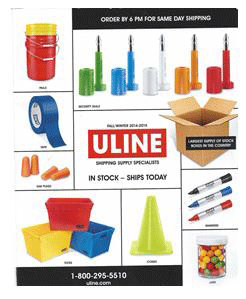 This month, something different happened and this catalog has been on my desk all week.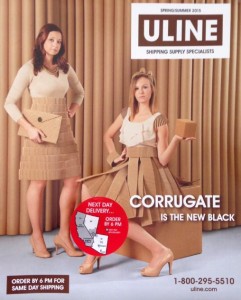 Uline is doing something right.  Marketers agree that catalogs are still effective means of driving business (Geller, 2012).  In 2013 there were 11.9 billion catalogs mailed in the United States and customers use them to make purchases online and in stores (Berliner, 2014; Geller, 2012).  The key is getting consumers to keep catalogs, if they hit the recycle bin they won't drive business.
Uline's latest catalog was an unexpected, timely and humorous departure from their typical cover art.  Humor helps differentiate a product or brand from the competition and creates an emotional connection with the consumer (Dubois, 2010).  This catalog was delivered the same week that Netflix's third season of Orange is the New Black was released, creating a timely play on words with the "Corrugate is the new black" title. They also struck the right balance by not including too much product detail and leaving something to the imagination (Dubois, 2010).  Ultimately, Uline's cover stands out in a pile of mail.
When something stands out people want to talk about it, creating additional brand awareness and the ability to reach new audiences.
It will be interesting to see what Uline comes up with next!
References
Berliner, U. (2014, December 11). Here's why retailers keep sending you catalogs. NPR. Retrieved from http://www.npr.org/2014/12/11/369603493/heres-why-retailers-keep-sending-you-catalogs
Dubois, L. (2010, December 31). How to use humor in advertising. Inc. Retrieved from http://www.inc.com/guides/2010/12/how-to-use-humor-in-advertising.html
Geller, L. (2012, October 16). Why are printed catalogs still around? Forbes. Retrieved from http://www.forbes.com/sites/loisgeller/2012/10/16/why-are-printed-catalogs-still-around/