Chances are, if you had access to the radio or watched MTV in 2003, you can recall the popularity of Killer Mike's A.D.I.D.A.S. song. If not, you might remember hearing kids (and adults alike) singing/rapping the lyrics "All Day I Dream About… [Sex]. Where I grew up, kids recognized Adidas more for the hit rap song than the sportswear brand. While track jackets and "superstar" shoes were nice to have, Adidas just wasn't as "cool" as its rival Nike. But why is that? Was it the products and design aesthetics, or was the problem more with its integrated marketing strategies?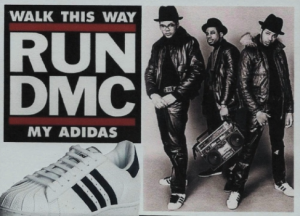 While the company has seen its share of popularity, thanks to collaborations with RUN DMC in the 1980's and Missy Elliot in the 1990's (Johnson, 2014), Adidas' success has come and gone throughout the years (Hobbs, 2016). As Vogue reported, Adidas' marketing team previously had a difficult time finding innovative ways to "inspire and engage" the 15-25 year old target audience (Johnson, 2014). Fast forward to 2016, and Adidas is steadily rebuilding its brand loyalty (Hobbs, 2016).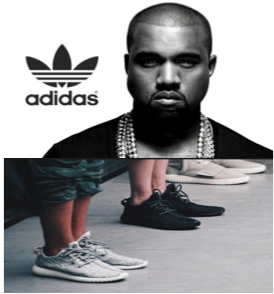 Working alongside artists such as Kanye West and Pharrell, as well as fashion designers like Rick Owens and Stella McCartney, Adidas is repositioning itself in the sporting goods market (Johnson, 2014). Just look at the success of the Air Yeezy sneaker. The shoe is commonly seen on every major celebrity. Much more, its sell-out rate is astonishing. Everyone is looking to get their hands on a pair (or two). Resale prices are sky-high. A simple Google search reveals people are reselling the shoe for over $1,000.00! Simply put, the Yeezy sneaker is the latest hot commodity taking over the shoe market. Not to mention, pictures of the highly coveted shoe are all over social media.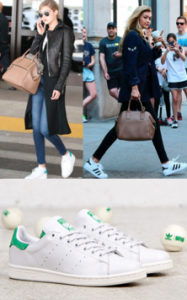 Speaking of shoe trends, the "Stan Smith" sneaker is another Adidas shoe making its way into pop culture. From in-demand models like Gigi Hadid and Kendall Jenner to fashion mogul Victoria Beckham, the "Stan Smith" shoe is being worn by almost every "it" girl. Not to mention, men like David Beckham, Pharrell, and A$AP Rocky have also been spotted wearing the sneaker. By capitalizing on the popularity and exposure among influential celebrities, Adidas has finally reached its target audience. With its increased presence on social media, the brand has successfully made the shift from traditional to digital marketing.
But what does this all mean?
Well….it means Adidas is looking to close the gap with its rival Nike. While Nike's dominance and success are unparalleled, Adidas is looking to capitalize on Nike's major weakness. Since "Nike isn't interested in building ongoing collections around individuals who aren't athletes" (Johnson, 2014), Adidas is using that to its advantage and recruiting "an army of artists and designers"(Johnson, 2014) to help transcend the brand.
However, as Hobbs (2016) reported, while Adidas remains the largest sportswear manufacturer in Europe, in the U.S. (and every other country for that matter), it comes second behind Nike. So how can Adidas win the "race to innovate faster and better" (Johnson, 2014)? Here are a few tips provided by Hobbs (2016):
Maintain star names: Adidas should work to preserve the healthy relationships it maintains with sports stars like: Aaron Rodgers, Derrick Rose, and Lionel Messi. Not to mention the highly lucrative deals Adidas has with club teams such as Manchester United, Bayern Munich, and most recently, Real Madrid (Forbes.com).
Win back dominance in the U.S.: The "key to Adidas' growth in America will be ensuring it chooses sponsorship deals that are right for the US market." Foremost, it should make "a lot of divestments" and "shake up" its current portfolio.
Re-evaluate its sponsorship of FIFA: Given the recent scandal plaguing the soccer world, it might be best for Adidas to distance themselves from all the controversy before the negative spotlight falls on them too.
Will the proposed marketing communication strategies help Adidas dethrone Nike? That is to be determined. The best marketing and branding strategies stand the test of time. So for now, we'll just have to wait and see. In the meantime, we can keep our eyes on Instagram (and other social media platforms) to see who's ahead in the race.
"When facing a giant, the best way to win is to play by your own rules" (Johnson, 2014).
References
http://www.vogue.com/13268578/033114-adidas-pharrell-williams-collaboration/
http://www.forbes.com/sites/chrissmith/2015/05/06/soccers-richest-sponsorship-deals/#68f12b9d23a7
https://www.marketingweek.com/2016/01/25/adidas-looks-to-avoid-reputational-risk-with-move-to-end-athletics-sponsorship/
https://www.marketingweek.com/2016/01/05/adidas-creates-new-brand-activation-role-as-it-refocuses-eu-marketing-division/