I would bet that we each have a memorable April Fools prank that we can remember. Some of us might have fallen for a silly April Fools prank by a spouse or friend, and others victim to companies using social media channels to prank us all. Last year there were several companies that used media channels to create pranks on April 1. Honda announced the Honda HR-V SLF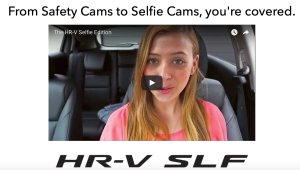 , the first car to install selfie cameras in the car taking photos that can
be uploaded to social media (CNBC, 2015). Amazon re-skinned their homepage circa 1999 and showed
products that could be used for a good prank (CNBC, 2015). Netflix, Samsung, Google, Groupon and Sony even got in on the fun and many consumers got a good la
ugh last year with these fun digital pranks (CNBC, 2015).
Back in 1998, Burger King introduced the left-handed Whopper for the 32 million left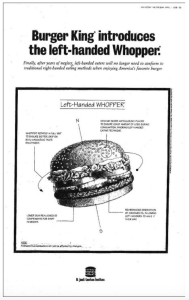 handed customers in the US with a print advertisement (Yoon, 2016). The burger was exactly the same as the existing Whopper, but the "condiments were rotated to 180 degrees," (Yoon, 2016, para. 16). Customers came in in droves to ask for the new burger and a lot of customers asked for the right-handed burger as well (Yoon, 2016). It's actually funny to imagine how this went over with customers actually believing the Whopper could be right or left handed.
Let's take a look back to how April 1st came to be April Fools day. April fools dates back to 1582 when Pope Gregory XIII decided that the calendar should be changed to the Gregorian calendar, moving New Years Day from March 31 to January 1 (Stack, 2014). The change in the calendar was widely publicized, but there were still people that did not get the message and they continued to celebrate on April 1 (Stack, 2014). Those folks were ridiculed and seen as foolish, called April Fools (Stack, 2014). And 434 years later, we still celebrate April Fools.
I'm one of those people that get's a pit in my stomach as the day approaches. I know that I won't get pranked by my family, but do tend to be gullible and always think 'what if I do get pranked' would I make a fool of myself? So, I ask all of you- do you have a good April Fools prank story? What companies do you think will be pulling pranks in marketing channels on Friday?
References:
CNBC, (2015). The best corporate April Fools' Day pranks of 2015. CNBC. Retrieved from: http://www.cnbc.com/2015/04/01/rporate-april-fools-day-pranks-of-2015.html?slide=9
Stack, P.F. (2014). April Fool's Day 2014: Religious Origins Of The World's Silliest Holiday. Huffpost Religion. Retrieved from: http://www.huffingtonpost.com/2014/03/31/april-fools-day-2014_n_5045190.html
Yoon, F (2016). Top 10 April Fool's Day pranks played by the media, The Star Online. Retrieved from: http://www.thestar.com.my/metro/focus/2016/03/26/top-10-april-fools-day-pranks-played-by-the-media-with-april-1-just-days-away-starmetro-takes-a-look/