After customers complained that the newly-released iPhone 6 Plus could bent unexpectedly, lots of brands, not only Apple's smartphone rivals, have taken to mock the so-called "bendgate" using the hashtag function on Twitter.
"Curved. Not Bent." Samsung wrote on Twitter.
"Our phone doesn't bend, it flexes … on purpose." LG Tweeted.
Heineken posted a picture with its signature beer cap, saying "No worries, it happens to us all the time."
Pringles had a piece of twisted chips beside the line "What's wrong with a little bend?"
If  you are interested, more #bendgate tweets can be found here: #bendgate tweets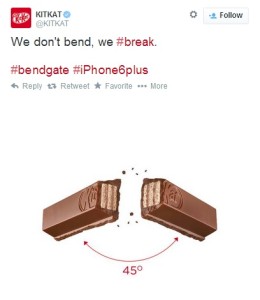 Surprisingly to me, the brand which got the most tweets so far is KitKat. It posted a picture of a KitKat breaking in two with the caption "We don't bend, we break". KitKat #bendgate tweet Currently the post, which was created by JWT London, has had more than 27,000 retweets and about 13,000 favorites, double the amount of Samsung's "Curved. Not bent" tweet with a picture of the Galaxy Note Edge. Someone believes that KitKat is leading the way with the least objectionable brand tie-in.
After some "research", I found that it is not the fist time that KitKat has mocked Apple. Earlier this month, KitKat has produced a new YouTube clip poking fun at Apple's well-known product introduction videos: instead of Jonathan Ive guiding you through the ins and outs of new hardware from Cupertino, "Chief Breaks Officer" Chris Catlin will be extolling the virtues and design principles that go into producing confectionary: Android KITKAT 4.4 – The future of confectionery
Actually, the current version of Android is called "KitKat", and the PR teams at both companies have clearly been working together. In a larger picture, Google and Nestlé have been working under an extensive co-branding arrangement overtime.
Isn't it extra cool that it's KitKat mocking Apple like this?
Opinions of why KitKat succeeded in #bendgate tweet? And what other #bendgate branded tweets do you guys like?
References:
Jack, L. (2014) KitKat's mocking Apple tweet outperforms Oreo's Superbowl, Retrieved from http://www.campaignlive.co.uk/news/1314521/kitkats-mocking-apple-tweet-outperforms-oreos-superbowl/
Welch, C. (2014) KitKat mocks Apple with Android 4.4 parody video, Retrieved from http://www.theverge.com/2013/9/3/4690744/kit-kat-mocks-apple-with-android-parody-video