AT&T, Coca-Cola, Corona, JetBlue, the New York Yankees and Univision are among the corporate sponsors that have pulled their support from the 2017 National Puerto Rican Day Parade.  The parade, one of the largest Hispanic cultural events that takes place in New York City, announced several weeks ago that it would honor Oscar López Rivera, who by some is considered to be a freedom fighter – while others refer to him as a terrorist.
Earlier this month Oscar López Rivera was freed after serving 36 of a 70 year sentence for robbery, transporting firearms, and conspiracy to transport explosives while at the helm of the activist group  Fuerzas Armadas de Liberación Nacional Puertorriqueña (FALN).  The FALN, while fighting in support of Puerto Rican independence in the 70's and 80's, took to violent acts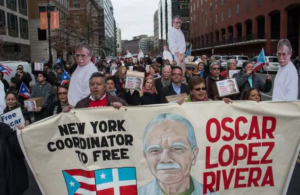 in the US – responsible for more than 120 bombings resulting in 5 deaths and many injuries.  The support of  López Rivera is not new for the parade, in 2014 a group payed tribute and marched in support of his release.  Allowing that freedom of speech is a far cry from declaring him a National Freedom Hero – a designation that has stirred controversy and left sponsors scrambling .
The parade, celebrating it's 60th anniversary, has a long-standing tradition of celebrating the rich culture of the island and its people here in New York is no stranger to controversy.  The documented assault of women in 2000 forced sponsors to question their association with the event.  This was followed, in 2004, by the selection of a convicted domestic abuser which drew the ire of domestic violence organizations, politicians, and caused Verizon to withdraw support.  While the National Puerto Rican Day Parade has an active fundraising mission to support education,  supporting the event itself must be continuously evaluated to ensure sponsors are not only aligned with the larger mission, but also the values represented by  those being honored.
Today, having López Rivera in such a prominent position is a risky proposition.   This may have been seen differently in the context of the political movements of the time, but after 911 our collective views have changed when it comes to acts of violence, especially on US soil.  A sponsorship can be misconstrued as support for terrorist acts.  Locally, groups like the New York City Police Department's Hispanic Society, the NYPD's Gay Officer Action League, NYPD Police Commissioner James O'Neill, the New York Fire Department and the NYFD's Hispanic Society, are all boycotting the event. Each day that passes brings more criticism and less support.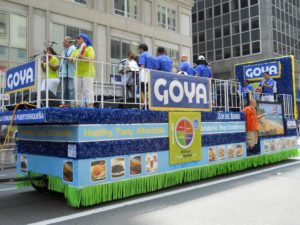 In addition to AT&T, Coca-Cola, Corona, JetBlue, the New York Yankees and Univision – Goya Foods, a 59 year sponsor has pulled their support. Goya Foods is now under pressure for their decision as parade sponsors claim the this will impact the 100 scholarships they provide latino scholars.  Goya has not issued a statement and I question this shift in accountability.
In their statement, Coca-Cola provides a balanced view that while the company "decided not to march in the parade" this year it will still provide financial support to the scholarship program.  In a similar statement, JetBlue said it would take their funds to support scholarships as, "it became clear that the debate about this year's parade was dividing the community and overshadowing the celebration of Puerto Rican culture that we had set out to support."
In their own statement, National Puerto Rican Day Parade, Inc claimed the honor is "not an endorsement of the history that led to his arrest, nor any form of violence. But rather a recognition of a man and a nation's struggle for sovereignty."  While they may wish to frame his participation this way, they can not disassociate López Rivera with his actions simply out of desire to maintain focus on "the grave colonial situation in Puerto Rico."  Even if they were able to shift perception, sponsors would then need to evaluate their support of a political struggle versus a celebration of culture and heritage.
These brands have made the decision to pull support to avoid running the risk of being aligned with the political views and practices of the honoree – they would be wise to understand the political under current of the event as well.
References:
Alvarado, C. (2017). Many Puerto Ricans are skipping the Puerto Rican Day Parade. The New York Post.  Retrieved from: http://nypost.com/2017/05/27/many-puerto-ricans-are-skipping-the-puerto-rican-day-parade/
Bever, L. (2017).  Sponsors are dropping New York's Puerto Rican Day parade after a controversial decision. The Washington Post. Retrieved from: https://www.washingtonpost.com/news/post-nation/wp/2017/05/25/coca-cola-new-york-daily-news-and-others-pull-support-for-new-yorks-puerto-rican-day-parade/?utm_term=.e30a5e1c2090
Campanile, C. (2017). Cuomo, more sponsors pull out of Puerto Rican Day Parade. The New York Post.  Retrieved from: http://nypost.com/2017/05/26/cuomo-pulls-out-of-puerto-rican-day-parade-amid-uproar/
National Puerto Rican Day Parade, Inc.website. https://www.nprdpinc.org/
National Puerto Rican Day Parade, Inc. (May 12, 2017). Statement by the National Puerto Rican Day Parade, Inc. about Oscar Lopez-Rivera.  Retrieved from: https://www.nprdpinc.org/wp-content/uploads/2017/05/STATEMENT-BY-THE-NATIONAL-PUERTO-RICAN-DAY-PARADE-ABOUT-OSCAR-LO%CC%81PEZ-RIVERA-.pdf
Toure, M. (2017). NYC Mayor defends Puerto Rican Day Parade honor for nationalist Oscar López Rivera. Observer. Retrieved from: http://observer.com/2017/05/de-blasio-puerto-rican-nationalist-parade-oscar-lopez-rivera-freedom-hero/